Mary has requested that the daily message be given each day to the world. It is read nightly at the prayer service from her Image Building in Clearwater, Florida, U.S.A. This is according to her request. All attempts will be made to publish this daily message to the world at 11 p.m. Eastern time, U.S.A.

---

We acknowledge that the final authority regarding these messages rests with the Holy See of Rome.

---
---
A Prayer for Intimacy with the Lamb, the Bridegroom of the Soul

Oh Lamb of God, Who take away the sins of the world, come and act on my soul most intimately. I surrender myself, as I ask for the grace to let go, to just be as I exist in You and You act most intimately on my soul. You are the Initiator. I am the soul waiting Your favors as You act in me. I love You. I adore You. I worship You. Come and possess my soul with Your Divine Grace, as I experience You most intimately.
---
Messenger: Include Our Lady of the Holy Spirit Center in 6:20 prayers.
---
Messenger: Please pray for 5 urgent intentions!
---
Messenger: Please pray for the healing of Father Carter through the intercession of Our Lady of Clearwater.
---
This is an outline from Father Carter's class.
It is not complete - it is only an outline.
Theme III - Scriptural Foundations of the
Christian Life
C. Gospel of Matthew
1) Other passages from Matthew to consider:
a) Matthew 8:18-22
---
Matthew 8:18-22

Unconditional commitment

When Jesus saw the crowd all about him he gave orders to leave for the other side. One of the scribes then came up and said to him, 'Master, I will follow you wherever you go.' Jesus said, 'Foxes have holes and the birds of the air have nests, but the Son of man has nowhere to lay his head.'

Another man, one of the disciples, said to him, 'Lord, let me go and bury my father first.' But Jesus said, 'Follow me, and leave the dead to bury their dead.'
---
I must be ready to renounce my own will in all things and do what He wants.
b) Matthew 11: 28-30
---
Matthew 11: 28-30
The gentle mastery of Christ

'Come to me, all you who labour and are overburdened, and I will give you rest. Shoulder my yoke and learn from me, for I am gentle and humble in heart, and you will find rest for your souls. Yes, my yoke is easy and my burden light.'
---
If He asks me to do something He gives me the grace to do it.

What is the difference if He asks me to carry a pebble or a boulder?

He gives me help to do it.
JESUS IS THE ANSWER.

He will give us the help no matter how difficult it is.
c) References: Gospel of Matthew

Matthew 13:1-23
Matthew 5: 13-16
Matthew 16: 24-28
Matthew 18: 1-4
Matthew 18: 21-35
Matthew 19: 16-30
Matthew 24: 36-51
Matthew 25: 14-30
---
Jesus is the Light.


We are the children of the light.


CAN WE HIDE A CITY ON A HILL?


Jesus is revealing His Father to us.
---

A rosary can be used to pray for healing. It is powerful to unite our prayers to the Holy Sacrifice of the Mass and pray through the powerful intercession of Our Lady of Clearwater.
In times of trouble, for special prayer, we can use our rosary and pray as follows.
A Rosary for Healing or for Someone with Cancer.
On one Hail Mary bead or as many as you desire, say:

May God heal through the intercession of Our Lady of Clearwater in union with the Mass and all the Masses being celebrated around the world.

Pray the Hail Mary or Hail Mary's then pray this after the Hail Mary.

May the cancer be uprooted and thrown into the sea.

We believe with all our hearts.

After the Glory Be— pray the following petition.

May be healed through the intercession of Our Lady of Clearwater if it be the holy will of God.
| | | |
| --- | --- | --- |
| | Note: You can look at Mary on the image rosary while you pray this rosary. | |
Note: The above section can be printed out from a PDF file, and you can pray the rosary looking at the pictures.
---
Messenger: Rosary in Clearwater, Florida - December 5, 2000.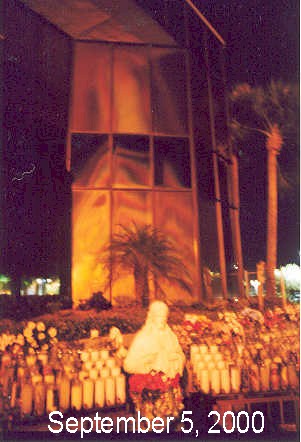 ---
Messenger: ALL APOSTLES THAT CAN COME ON DECEMBER 17, 2000 TO FLORIDA - 4TH ANNIVERSARY OF MARY'S APPARITION ON THE BUILDING IN CLEARWATER, FLORIDA.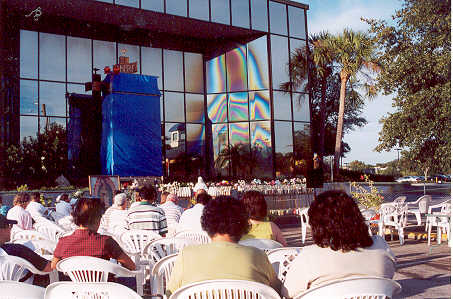 ---
Messenger: Mary wants the Red Rosary Book printed. It will cost $12,000 - $14,000 to get them reprinted. We are out of Red Rosary books. Mary has asked us to always circulate them. They go with the apparition in Florida.

Messenger: Can you help with the printing of the new Blue Rosary Book Volume II of Rosaries from the Hearts of Jesus and Mary?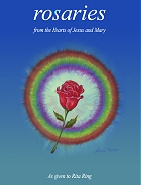 ---
Messenger: CAN YOU HELP US BY GIVING US ROSARIES FOR THE SCHOOLS REQUESTING THEM?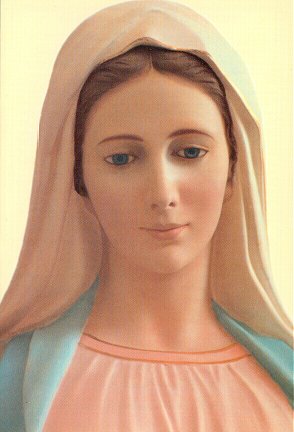 Mary speaks: PLEASE MAKE WALTER'S ROSARIES. THE SCHOOLS WANT ROSARIES AND THERE ARE NOT ANY ROSARIES LEFT.
---
Messenger: Pray for Perry.
---
Prayer List for apostles for interior use in the Movement. Pray hourly.

Spread the Blood of Jesus on everyone, consecrate their hearts, cast the devil out, pray for coming of the Holy Spirit in a special way for all people involved on this list.
Pray Father Carter is healed through Our Lady of Clearwater.
Pray for Father Carter's doctors.
Please pray for one new very important intention.
Pray for all involved in buying the building.
Pray for designated priests, Fr. Mike, Fr. Smith, Fr. Ken, all priests involved in the Imprimaturs translations including all bishops. Pray for Fr. Joe, Bishop Ed, Fr. Don, Father at Tuesday Masses, Fr. Tom, Fr. Bill, all priests involved with Walter, Fr. Hagee and special priests.
Pray for Father's sister Merle, for all of us servants, handmaids, apostles and vocations to all 7 categories.
Pray for the elections.
Pray for an audience with the Pope.
Pray for all Jesuits involved, all those over us. Pray for the 4 urgent intentions.
Pray for the rights to the books.
Pray for the process of getting Father's books on the Internet.
Pray for money to reprint the books.
Pray for the Imprimatur on the Priestly Newsletter Book II.
Pray we can send it to all bishops and Jesuits.
Pray for Perry and family and discernment.
Pray for all sub-centers and all out-of-state rosaries.
Pray for the sisters' mailing, nursing home mailing, bus mailing.
Pray for Rosary Factory.
Pray for Genevieve's daughter and Sheila's mom and Jerry's dad, Bernice's daughter.
Pray for Paul and Joan discernment.
Pray for all book covers.
Pray for B & M and Tina and Terry, all printing jobs, companies involved.
Pray for 5th, the 13th, the 17th.
Pray for the Internet team and the daily messages.
Pray for building up of Morrow, Ohio, Dale, Indiana, other sub-centers.
Pray for the Holy Spirit Center and all involved.
Pray for all our families, children in school, college mailing.
Pray for lots of rosary makers and rosaries for the schools.
Pray for funds and grace.
Pray for Paul C., Margaret Mary, Steve and Sheila, Monica, Angie, Marian, Cathy, Joe, Nick, Mary, Emily, Joe, Doris, Glaci, Dunkers, Joan R., Morgan, Mark, Walter, Janice, Mike A., Margaret, Ron, and Harold, Tommie.
Pray for Fred doing the paper and all involved in priestly "start-up".
Please pray for all Shepherds of Christ children.
Pray for Victor's son, Michael and a girl missing.
---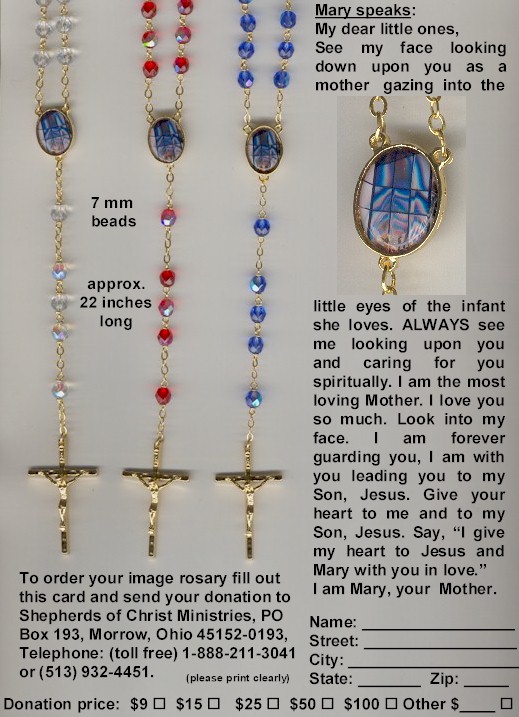 (Please copy and pass out to family and friends.)
---
Mary's Message from the Rosary of August 27, 1996
Mary speaks: I stood beneath the cross of my Son, and my Heart was in such pain for I saw Him before my eyes. I saw Him covered with blood. I saw Him die. My Heart, my children, my Heart to watch my Son, but my Heart, my Heart, how I suffered for my little children of the world that give in to this world and give up the love of my Son. O my little children of light, I give you this message. Carry this light into the darkness for your Mother Mary, for I stood beneath the cross and I cried. I cried for the little ones. I cried for the young ones, the ones that do not care and will lose their souls. How do I make you see for you will not listen to me? What can I do? I come. I appear. I beg. I plead. I give you these gifts from my Son, and you reject me. I do not deliver messages very often anymore for I have been ignored. The message is the same. You do not read the messages I have given to you. Please help me. Help the little children. I appear. I appear. I appear, and I am ignored. I stood beneath the cross, and I cried. I cried, and my Heart was in such anguish for my little children, for I am searching for them this day as I searched for the Child Jesus. Please, please help me. I cannot hold back the hand of my Son any longer. I am Mary, your Mother. I ask you to help my children. You are my children of light.

Song: O Lady of Light, shining so bright, be with us this day, guiding our way, O Lady, O Lady of Light.

Mary speaks: I appear to you as Our Mother of Sorrows.
(End of Mary's Message)
---
MY VALENTINE FOR JESUS AND MARY
AND THE WORLD

I _________________ give my heart to
You Jesus and Mary on this day
_________________
I promise to help spread the devotion to
the Hearts of Jesus and Mary.
---
Question for married couples and others in intimate relationships:
Q: How do I feel in my heart when I am divided with you?
---
---
---
Copyright © 2000 Shepherds of Christ.
Rights for non-commercial reproduction granted:
May be copied in its entirety, but neither re-typed nor edited.
Translations are welcome but they must be reviewed for moral and theological accuracy by a source approved by Shepherds of Christ Ministries before any distribution takes place. Please contact us for more information.
All scripture quotes are from the New Jerusalem Bible, July 1990, published by Doubleday.
Revised: November 30, 2000
URL: http://www.SofC.org
Contact Information for Shepherds of Christ
Email: info@SofC.org
---
Shepherds of Christ Ministries
PO Box 193
Morrow, Ohio 45152-0193

Telephone: (toll free) 1-888-211-3041 or (513) 932-4451
FAX: (513) 932-6791