Mary has requested that the daily message be given each day to the world. It is read nightly at the prayer service from her Image Building in Clearwater, Florida, U.S.A. This is according to her request. All attempts will be made to publish this daily message to the world at 11 p.m. Eastern time, U.S.A.

---

We acknowledge that the final authority regarding these messages rests with the Holy See of Rome.

---
---
A Prayer for Intimacy with the Lamb, the Bridegroom of the Soul

Oh Lamb of God, Who take away the sins of the world, come and act on my soul most intimately. I surrender myself, as I ask for the grace to let go, to just be as I exist in You and You act most intimately on my soul. You are the Initiator. I am the soul waiting Your favors as You act in me. I love You. I adore You. I worship You. Come and possess my soul with Your Divine Grace, as I experience You most intimately.
---
Messenger: Include Our Lady of the Holy Spirit Center in 6:20 prayers.
---
Isaiah 45: 6b-8, 21b-25
I am Yahweh, and there is no other,
I form the light and I create the darkness,
I make well-being, and I create disaster,
I, Yahweh, do all these things.

Prayer

Rain down, you heavens, from above,
and let the clouds pour down
saving justice,
let the earth open up
and blossom with salvation,
and let justice sprout with it;
I, Yahweh, have created it!

God, lord of the whole universe

Who foretold this in the past,
who revealed it long ago?
Was it not I, Yahweh?
There is no other god except me,
no saving God, no Saviour except me!
Turn to me and you will be saved,
all you ends of the earth,
for I am God, and there is no other.
By my own self I swear it;
what comes from my mouth
is saving justice,
it is an irrevocable word:
All shall bend the knee to me,
by me every tongue shall swear,
saying, 'In Yahweh alone
are saving justice and strength,'
until all those who used to rage at him
come to him in shame.
In Yahweh the whole race of Israel
finds justice and glory.
---
Entries from the Mass Book pp. 182-183
Written between 12:00 p.m. and 3:00 p.m.,
at Holy Cross-Immaculata Catholic Church:
I had such an experience - pouring out my love to Him. How I love Him! It hurts to not be able to love Him more deeply. I stood under the cross. I prayed the Stations.
---
H

E WRAPPED ME IN HIS DIVINE EMBRACE
Written at 12:30 p.m., in Holy Cross-Immaculata Church:
I wanted to love Him so much. I realized God's magnificence and goodness, and I wanted to give Him such great love, but I realize my incapacity to love Him more in my human form.
I realize how God is so worthy of all my love. My intellectual realization of how worthy He is, does not match with my attempt to love Him. It hurts to want to love Him so much. He gives me an insight, a light into His magnificence, and I realize my littleness.
So overwhelmed with the desire to give Him love, no thought of myself - my whole being wants to love Him with this immense love.
The world is non-existent. It is I and Him, and my whole being merges with Him and this one desire to unite endlessly, forever in the deepest union. Time stands still, and it is the meeting of our hearts, this oneness with Him. I slip into His Heart and nothing here matters, as if I have embraced such depth of union with Him. I want only Him. I see only Him, and I am one in this deep, deep embrace with Him. I lost myself in Him.
My existence is existence only in Him. It is being wrapped in love's embrace with Divinity.
The world existed around me, and all I knew was the embrace of the Almighty God. My heart sunk into His Heart, and I existed only in Him, my whole being seeing myself existing only in Him.
I saw His body as I stood beneath the cross at Holy Cross-Immaculata Catholic Church. I wanted to unite with Him eternally in this great depth of love I felt. I wanted to be totally lost in Him forever. By being merged with Him, I existed in Him, knowing only Him and loosing myself. I saw the Child Jesus statue, and I was lost in God. I begged the Father through the tears of tender, loving Mary, in the Holy Spirit, to help me to make His love known to this world, to use me, use my life as He willed to make this love of God known. Then, coming back to myself, I begged the Father, through the tears of the tender, loving Mary, in the name of the Christ Child, in the Holy Spirit, to help me to make His love known to this world, to use me, my life as He willed to make this love of God known.
---
I

AM TOUCHED IN A SPECIAL WAY BY GOD
When God gives us special illuminations, He is giving to us a great grace to understand insights into His mysteries. I pray for this special grace. It is a grace given to me, I do not control it in anyway. He opens the door, and I know so many insights into the mystery of God. I can experience great agony or great ecstasy. It is a great gift from God, because I know Him so much better after this. I never forget a special experience of His grace. It is printed in my being. I have complete recall. I usually have a great presence of the Trinity and am awed by this presence. I cry because of this presence. It is a great joy. Whether sufferings or joys, I am touched in a special way by God and I know and love Him more. I am wrapped in Their embrace.
---
Messenger: As I stood beneath the cross at Holy Cross - Immaculata Church (where our Lord appeared at the point of death) next to the Lourdes Grotto, our Lord stated clearly "There has not been enough Mass Books circulated. You do not understand how important this is that people understand they must unite to the Holy Sacrifice of the Mass. This will help to release great grace. I beg you to publish more Mass Books and circulate them. Pray for the Imprimatur on this book."
---
A MESSAGE FROM JESUS: FOR YOU MY APOSTLES OF MY SACRED HEART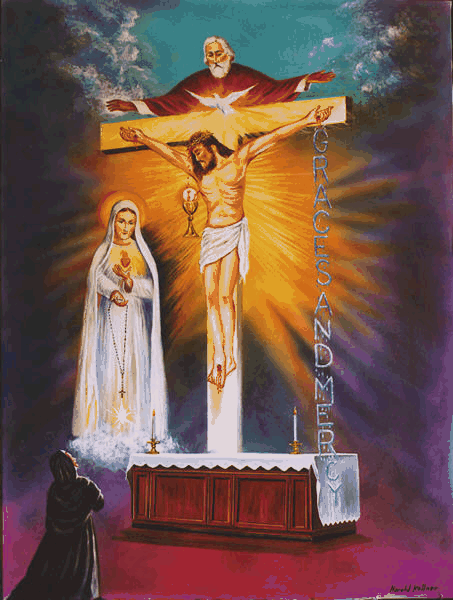 ---
Jesus speaks: I request this that you PASS OUT IN FLORIDA (December 16 through the Christmas season) AND CHINA (December 12, 13, 14):
PRAY THE MORNING OFFERING

Pray to the Father, in the name of Jesus in the Holy Spirit with all the angels and saints and the souls in purgatory, in union with the Holy Sacrifice of the Mass, through the powerful intercession of Mary,

PRAY FOR SOULS
YOUR FAMILY
THE CHURCH
THE WORLD
THE PRIESTS
THE SHEPHERDS OF CHRIST MOVEMENT.

I BEG YOU TO UNITE ALL YOUR ACTIONS WITH EACH OTHER AND OFFER THEM UP AS A PRAYER.

GRACE will be poured out on the earth. I love you, Jesus

PASS THIS OUT wherever possible. I love you, Jesus
Jesus speaks: Please give out to everyone, encourage them to pray this morning offering united as a body all through the day for great grace.
I encourage all to stay united praying at 6:20 if possible, morning and/or night for those who can during this novena December 17 - December 25.
Messenger: Our Lord told me to put in the Blue Book I the message May 13, 1993, which I received at Conyers, Georgia.
He was very specific that should be the first message.
He was very specific the message of June 17, 1993, should be the second message. I received it in Conyers, Georgia. It was the first message I read to a stranger in Conyers because He told me to do so. Her name was Kathy G.
It was exactly 3 1/2 years from that same message received in Conyers, Georgia until Mary appeared on the building December 17, 1996.
In that time we were persecuted and blocked delivering the messages from the Hearts of Jesus and Mary. On that day December 17, 1996, when Mary appeared, the Rosary Book, Rosaries from the Hearts of Jesus and Mary, was released from the publisher.
---
Revelation 12: 1

Now a great sign appeared in heaven: a woman, robed with the sun, standing on the moon, and on her head a crown of twelve stars.

Revelation 11: 2

…--- they will trample on the holy city for forty-two months.
---
Messenger: The Lady appears, a Lady Clothed with the Sun.
She appears to lead her children to the Heart of her Son through her Immaculate Heart.
A New Adam, A New Eve, He will reign and her Heart will triumph.
---
From the Daily Message December 11, 1998
October 25, 1998, God the Father speaks: On December 17, 1996, I allowed the miraculous vision of the Lady Clothed with the Sun to be made known to the world. On Christmas crowds flocked to the image. I have given this great gift to your world, the crowds have faded and the people soon have returned home. I ask you to publicize in any way possible this site of the Lady's Apparition in Florida, so that this site will help bring the world into oneness through consecration to the Hearts of Jesus and Mary. I wish a gigantic crucifix to be unveiled on this December 17, 1998, if at all possible and the crowds to be beneath the image. They are to sing praise to God before this crucifix. I wish My messenger to be present and as many Shepherds of Christ people as is possible...
I wish this announcement to say:
We pray for priests and the renewal of the Church and the world.
This day must be a day to draw souls into consecration. Beginning this day men will be asked to consecrate their hearts every day, that Jesus Christ, the Son of God, will be brought forth on Christmas Day and be alive in their hearts. Every day from that day to Christmas and after Christmas, I ask Shepherds of Christ people to stay and distribute materials, as is possible.
It should be advertised on the announcement that this period before Christmas is a special time to come and receive graces, for special graces will be given. I wish the primary focus to be to promote the priestly newsletter, the prayers, the rosary and Rosary Books , pamphlets and tapes, Rosary Aves , etc. I wish all to pray the rosary. I wish the second priestly newsletter book to be finished and distributed by this time or soon afterward if possible.
I am the Father, this is My Christmas gift to the world: My Son Jesus hanging on the cross, Mary, your Mother appearing to lead the world to the light.
I wish gigantic candle rosaries to be held every night before the crucifix and the image, with hand-held candles, as a procession for Christmas. These may be candles in little jars. I wish the meeting on December 17, 1998, to be at 6:30 pm with candles, and small services with songs at 12:00 noon and 3:00 pm. The main service will be with candlelight at 6:30 pm.
---
Messenger: On December 15, 1995, I had the most magnificent presence of God at Holy Cross - Immaculata Church. Today is a special day to heaven. (Click on the Mass Book, December 15, December 17, and December 18, 1995)
Today is our Shepherds of Christ president's birthday. His name is John. Our Lord and our Lady want me to thank him for his faith, love and generosity to all of us and the world.
HAPPY BIRTHDAY JOHN!! (Thanks to his mom and dad too for their part in bringing him to us, in raising a beautiful son).
Sometimes we treat others in a hurried manner and do not know how the way we acted may have hurt others.
I want to pray that we are soft and supple in our hearts. As Jesus says "Do not get caught up in the 'fanfare' and forget why you are living."
Sometimes a warm drink and a hot meal is so refreshing when we are tired and weary. It helps soothe the body.
Jesus speaks: Think of how these little comforts fill the needs of the body, now think how pleasing it is to receive a kind word of thanks, love and appreciation when you have worked hard and need a bit of refreshment for the spirit. Now, think of how a criticism is a dagger to the soul of one who has served and is weary.
I am in your brother.
---
Song: Your Presence Pervades My Soul
Refrain: Your presence pervades my soul. Your burning love in my heart. My heart knows You dearly, my soul knows Your presence. Oh Jesus, I long for Your Love.
Verse 4: I am in your brother. I call you to love them. Do not turn Me away.
---
Jesus speaks: In this Christmas season, I want you to sing my love songs. There are hidden messages and insights to lift your weary souls.
Keep My song tape with you and play it. Listen to the rosary for 5 minutes or the newsletter or play the Blue Book Message tape, the Nursing Home Message tape, call the Mary Help Line. I will give you great grace when using these instruments I have given, the prayers, the Blue Books.
Your mission is to love and be a light in the darkness. Oh My precious child, the Father loves you, I loved you to My death, the Holy Spirit will fill your soul with love. God is real. God is with you. I never leave you. At Mass put yourselves in the Heart of My Mother and dwell in My Heart. Take all of the world into your heart as you dwell in Our Hearts, and love the souls. Love in your prayers, love united to the Mass. You are helping to save souls. Oh how I love them and you. To My death on the cross, I loved you. (Blue Book I, October 24, 1993, I Am the Divine Healer see the Nursing Home section).
---
December 15, 1999 - Second Message
Given October 26, 1999 - Excerpt from God the Father's message.
God the Father speaks: ...I wish this invitation be extended daily on the Internet to come and pray during the Christmas Novena at the image site. If this is impossible, pray at home for the coming of Jesus in the hearts of men...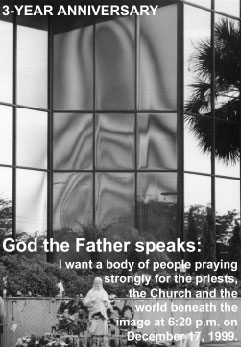 God the Father, Jesus, and Mary are calling all to pray in front of Mary's image in Clearwater, Florida, on December 17, 1999. This important day marks the 3-year anniversary of Mary's appearance on the building. God is asking us to gather for this special day, praying for peace, and especially to make reparation to God, the Sacred Heart of Jesus, and the Immaculate Heart of Mary.

October 11, 1999 - Jesus speaks: …I want all who can come to Florida December 17, 1999, to come there. Mary wants the apostles gathered in prayer, but if you cannot come, then you pray fervently.

October 15, 1999 - Mary speaks: My dear children, I invite you to come to my Image site to pray December 17, 1999. I am Mary your Mother. Please come.

October 15, 1999 - Jesus speaks: I wish you to come and pray with the greatest fervor before the image of My Mother December 17, 1999. …Please come and pray. If this is impossible, pray as a body before the tabernacle and at all Centers including: Toledo, Ohio; California; Kansas; Pennsylvania; Delaware; wherever one is able to pray. I love you, Jesus.

October 26, 1999 - God the Father speaks: You are the children of Eve. You are sons of that woman and I send you the Woman, your Mother and you ignore her.

I want a body of people praying strongly for the priests, the Church and the world beneath the image at 6:20 p.m. on December 17, 1999, and all others praying as a body united to the Holy Sacrifice of the Mass throughout the world. I wish all priests who can to celebrate Mass at 6:20 p.m. on December 17, 1999, and every day after, until Christmas. I wish all to pray this novena for these days December 17, 1999-December 25, 1999 at 6:20 praying for the coming of the Holy Spirit, healing, oneness, to be spread with the Blood of Jesus as directed by My Son in a message February 23, 1999. I want this. I want fervent prayer. I want unity in the hearts. I want men praying as a body at 6:20 p.m. as requested by Jesus and Mary. I want communal reparation by all receiving Communion and/or making a spiritual Communion united to the Mass.

I wish an invitation to this gathering to be circulated, stressing making reparation to God, reparation to the Hearts of Jesus and Mary.

January 5, 1999 - God the Father speaks: It is because of your fervor to pray here that you have held back the hand of My Son from punishing the earth with just punishment for the crimes committed against your God.
Please come and join us for prayer at the site in Clearwater, Florida, the other sites mentioned in this invitation, or from wherever you can. Thank you and God bless you,
Shepherds of Christ Ministries.
December 17, 1999 Planned Activities:

Holy Spirit Novena at 6:20 p.m.

Shepherds of Christ Prayers

Rosary

Fatima Procession

Songs

For more information contact: Shepherds of Christ Ministries, P.O. Box 193, Morrow, OH 45152-0193, U.S.A. Tel: (513) 932-4451, Toll Free: (888) 211-3041. FAX: (513) 943-6792.
Internet: http://www.SofC.org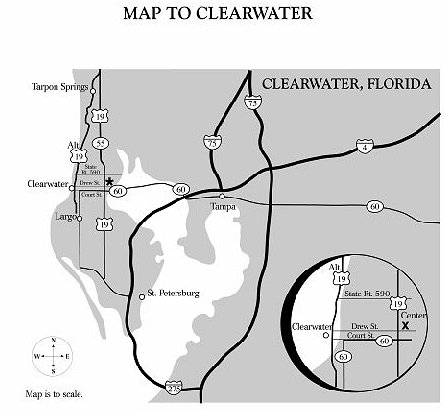 ---
Nursing Home Message - December 15, 1999 - Third Message
For Nursing Homes

I Am the Divine Healer

October 24, 1993
Jesus speaks: I am the divine dresser. I dress the fields and adorn them in a covering of frost. People go out and wonder how this just appeared, as if the cold covers your fields. But I make the grass turn white. Nothing happens in this world without My knowing it. I am this personal with you. I know more about your body than you do. I can heal a stubbed toe in an instant or I can leave it broken. Oh, child, why do you fret? Why do you not believe it is in Me you are made whole? I make the sun shine and the moon give its lights. I make the stars shine for you and you wonder what you must control next. You, child, control nothing. I am by your side constantly and I make all things work for you. Turn all your little most insignificant problems over to Me. I love you, child. I will tend to them. This is My promise and I am God. I am true. I am He Who loves you. Come and be filled by My goodness. No man can fill you as I do. I love you.
Jesus speaks: I am with you this Christmas. I love you so much.
---
Messenger: When visiting a nursing home this is a plan you can follow to pray a little part of the rosary with the elderly or sick residents.

What is usually done and tolerated by the elderly folks is one Our Father, five Hail Mary's and another Our Father. The song, A Song from Jesus, can be sung before and after these prayers.

It is desirable to have a big picture of The Visitation when doing these meditations. Also it is recommended that you have pictures of the Sacred Heart and the Immaculate Heart of Mary.
---
Excerpt from January 13, 1997 rosary, "The Visitation" from the Rosaries from the Hearts of Jesus and Mary

The Visitation
Messenger: And Mary went to visit her cousin Elizabeth. Mary went forth to proclaim the good news; she told her cousin Elizabeth. We are called to go into this world, to go into the darkness that exists in the world today, and to proclaim the good news.
Mary brings forth her children of light. As we give our hearts to Mary, we are brought forth children of the light. As we walk into the darkness, His light shines from us. To be a child of light we must consecrate our heart to Mary. We must give ourselves as a child to Mary.
Many are so filled with pride this day, for they do not feel that they need their mother. But Christ showed us, Christ showed us the way. He came to this earth in the womb of the Virgin Mary. We must be as children as the Father intends us to be. We must love our heavenly Mother, Mary. We must do what the Father intends us to do. Our every effort and thought must be the thought of pleasing our heavenly Father.
And how are we shining in this world today? Are we the lights that are shining in the darkness? Does the light of Christ shine from us as we go to others, as we visit others? Is He alive in our hearts? Is His life and His light shining from our eyes? Are we acting as He intends us to act?
Jesus speaks: My beloved ones, I am near. I am with you this day and My Mother Mary is with you in a special way... Let go of all the cares in your heart, all the bitterness and come as a little child. At every moment, your life must be lived to please your heavenly Father. Your heart must be filled with love for your Mother, for you are children of God. Mary is your Mother and God the Father is your Father.
---
Question for married couples and others in intimate relationships:
Q: What helps me feel connected to you?
---
---
---
Copyright © 1999 Shepherds of Christ.
Rights for non-commercial reproduction granted:
May be copied in its entirety, but neither re-typed nor edited.
Translations are welcome but they must be reviewed for moral and theological accuracy by a source approved by Shepherds of Christ Ministries before any distribution takes place. Please contact us for more information.
All scripture quotes are from the New Jerusalem Bible, July 1990, published by Doubleday.
Revised: December 15, 1999
URL: http://www.SofC.org
Contact Information for Shepherds of Christ
Email: info@SofC.org
---
Shepherds of Christ Ministries
PO Box 193
Morrow, Ohio 45152-0193

Telephone: (toll free) 1-888-211-3041 or (513) 932-4451
FAX: (513) 932-6791