Mary has requested that the daily message be given each day to the world. It is read nightly at the prayer service from her Image Building in Clearwater, Florida, U.S.A. This is according to her request. All attempts will be made to publish this daily message to the world at 11 p.m. Eastern time, U.S.A.

---

We acknowledge that the final authority regarding these messages rests with the Holy See of Rome.

---
---
A Prayer for Intimacy with the Lamb, the Bridegroom of the Soul

Oh Lamb of God, Who take away the sins of the world, come and act on my soul most intimately. I surrender myself, as I ask for the grace to let go, to just be as I exist in You and You act most intimately on my soul. You are the Initiator. I am the soul waiting Your favors as You act in me. I love You. I adore You. I worship You. Come and possess my soul with Your Divine Grace, as I experience You most intimately.
---
Messenger: Include Our Lady of the Holy Spirit Center in 6:20 prayers.
---
Feast of Sacred Heart, June 30, 2000.
Jesus speaks: Please pray the 6:20 prayers between 12:00 - 3:00 Friday (China, Indiana time), the Feast of My Sacred Heart.
Please pray as a body.
Please pray before the tabernacle if possible.
Come to China, Indiana, or pray under the image in Clearwater, Florida.
Pray in your church, go to Mass if possible, pray for My intentions for the Shepherds of Christ Movement and the Reign of My Sacred Heart.
Give yourselves to Me and My Mother.
---
June 28, 2000 - Second Message
Messenger: A parent loves a child despite their imperfections and willfulness. Christ loves us despite our imperfections and willfulness. He gave His life for us, He loved us to His death on the cross. When we sin the devil tries to keep us from Him by emphasizing the sin and our imperfections. God wants us to live in truth, admit the sin, tell Him we are sorry for offending Him, beg for forgiveness, profess our undaunted love for Him and continue working harder than before to spread the Kingdom and please Him. The devil wants to get us to sin, he wants us to stay stuck and be bowed down.
One of the servants once sent me a fax of faces of his feelings. He recorded the feeling he felt and the face to go with it. He used the word bowed down which Jesus uses in the Blue Book messages. Our faces many times clearly shows the disposition of our hearts. We communicate many things by how we walk and talk, but our faces many times shows a story.
The world teaches us to hide our feelings and be stiff-necked, put on a mask.
When we share intimately with a few close friends we can say, I feel tired today or sick without feeling guilty, sharing our state helps us understand each other. Many times someone may be carrying a tough burden and they are "edgy." It helps sometimes just to share those few words. But to communicate properly, we must be ready to listen and not think everybody has to fit into our mind slot. We have to pray for this sensitivity to help each other and show true love.
I want to show the faces this servant sent me. He is in charge of our China, Indiana, site. In working with ourselves and others to form a community or just to interact in an intimate way where we are not like separate men, we have to really take a lot of our feelings to Jesus, our Divine Bridegroom. He is the one who comforts and understands it all.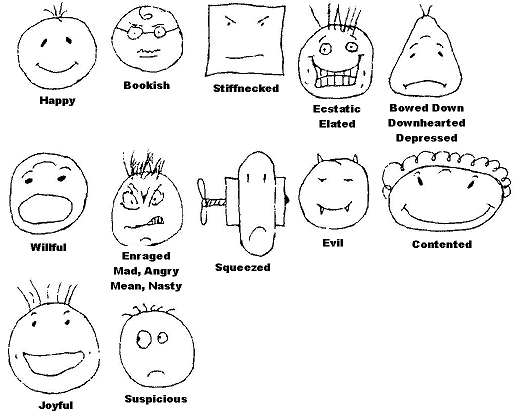 Messenger: Some people who were not understood in childhood can spend their lives trying to get someone else to fill in for their fathers. When we get in close relationships, that is when all the unmet needs show up. The devil knows them better than we and he can help a person make just the right comment that hurts that unmet need.
These are like buttons many times that glow red. The devil will work in any way he can to divide us. He uses the differences between men and women. Men and women are different, God made us this way, look at our bodies, they are different.
In dealing with these differences we learn to grow in love.
A few differences may include a woman's need to talk about things and the need to be understood, it may be one way, the way she approaches a problem and another way, the way he handles it.
A man may work toward a solution much more quickly than a woman, she may weigh all of the angles and act at a much slower pace or maybe be hesitant to act at all.
These are only examples and some men act certain ways and some women other ways. We cannot say men are this way and women are this way, every person is different, but we can sure see differences in our bodies and differences in how we think.
The challenge is that we must try to understand and love each other. Sometimes a black wall goes up in dealing with someone we need to work with for Jesus' work. It can be the slightest misunderstanding that can cause a problem. The devil is always working to stop us.
From the strong daily message given on June 17, 2000, June 18, 2000, June 19, 2000, June 20, 2000, I see the importance of prayer and the Mass and how the devil will do everything to stop us. Jesus warned us in the message He wanted on June 17, 2000, it was actually the message of June 18, 1998, but for three days, He told me, it must go on to appear on the morning of June 18, 2000. I felt the intenseness of the messages, checking the paper a few times seeing if anything happened.
I feel the intenseness during these nine days at the end of this month which ends with the most beautiful feast of His Sacred Heart.
I believe He was especially warning me and you of the importance of the Masses and being united at Mass, praying as a body and how the devil would work in our imperfections and differences to divide us and stop our most fervent prayers which can really make a difference in helping the earth now in this time of great sin.
I cry out to you. I see that only in deep love of Jesus will we be able to stand the great trials that the devil is permitted to use on us, emotionally and in other ways, to manipulate events. That is why it is so important to do the 6:20 prayers and spread the Church and the world with the Blood of Jesus and unite all our moments every day with the Holy Sacrifice of the Mass praying as a body, offering a holy sacrifice through consecration united to His offering.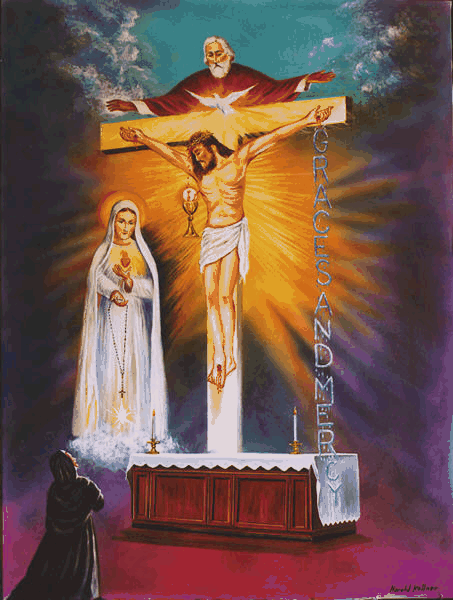 ---
Revelation 12: 1-2
Now a great sign appeared in heaven: a woman, robed with the sun, standing on the moon, and on her head a crown of twelve stars. She was pregnant, and in labour, crying aloud in the pangs of childbirth.
---
Revelation 12: 11-12
They have triumphed over him by the blood of the Lamb and by the word to which they bore witness, because even in the face of death they did not cling to life. So let the heavens rejoice and all who live there; but for you, earth and sea, disaster is coming—because the devil has gone down to you in a rage, knowing that he has little time left.'
---
Messenger: It will take deep, deep love with Jesus our Bridegroom to withstand the great trials. It will take understanding and love amongst the brethren. The 3rd Blue Book is really good to keep by our sides to help us. Writing to Jesus is so important, sharing our love and our feelings.
There is a real problem when we get close to someone - to expect them to fit all our unmet needs. We love everybody else and then expect our most intimate other to give us all the love and acceptance that we need. We must love all others and realize nobody can give us this love and acceptance we need but Jesus. But intimate others should share writing to each other about their feelings. I include a message I received on June 20, 1998, on the feast of the Immaculate Heart. This message is from Jesus, but I hesitated putting it on the internet until now. Jesus wants it clear how we can't be attached to each other, expecting any significant other person in our life to be the end. He gave the message about this June 20, 2000. Please read it in the daily messages. But the oneness of married couples is a relationship of strength, they help each other grow, they don't spend all their time sharing sick feelings and never help spread His Kingdom. Satan can work in two people getting them all tied up in spending their lives working on their relationship and never live with the rest of the world. A relationship with each other, if it is healthy, helps us grow to be more perfected like our heavenly Father. Our relationships are not to find a mother when we are 33 years old, or find a father that will accept us and love us and fill all our desires and make everything wonderful. Our relationships are difficult many times, we have to bend and give and forgive, step down off our high pedestals, be humble, be servants and children of God. When a plant is cut back, many times it grows. When we are pruned, when we see our imperfections and are holy enough to deal with them, then we grow to be more perfected in our ways of loving.
Only God can satisfy the craving in our souls for love and no human person will satisfy us. We won't be satisfied here. The more we interact with others and die to our imperfections, the deeper we will be able to be in a loving relationship with our God for all eternity. We are here to learn to love. We have a whole lifetime to try to be more perfected like our heavenly Father.
Mary's spiritual womb is the place we are sanctified through the power of the Holy Spirit. The Incarnation goes on in us. We were created in His image and likeness.
---
Genesis 1: 27
God created man in the image of himself,
in the image of God he created him,
male and female he created them.
---
Messenger: See how important the impeccably pure spiritual womb of the Woman is for the children of Eve, and how important offering the Holy Sacrifice of the Mass to the Father from their spotless Hearts is.
We are indeed the imperfect children of Adam and Eve.
The New Adam and the New Eve are Jesus and Mary.
And we offer sacrifice in union with them.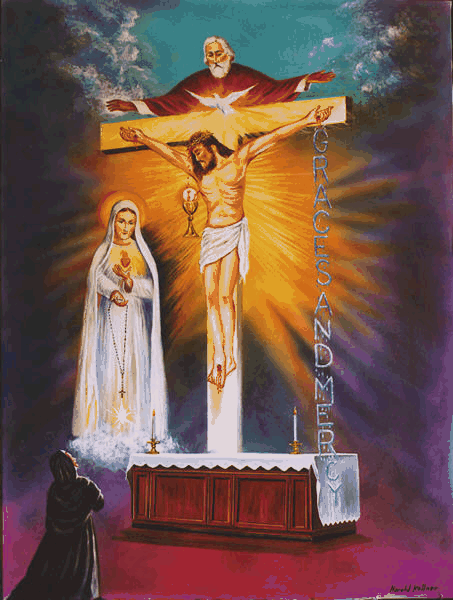 Messenger: The little olive plants around the table are to bear great fruit.
We are the children of God, the children of our spiritual Mother Mary.
There is only one way, Jesus is our Divine Bridegroom. He fills all our needs, we must try to love and understand each other because we are all imperfect.
Priests must preach this, the importance of the children of Eve consecrating themselves to the pure and holy Hearts of Jesus and Mary and offering sacrifice.
We are the shepherds. We lay our lives down uniting in the Holy Sacrifice going on around the world.
We are not haughty, we are little tender shoots in need of His care. We are the children of light, the children of Mary.
---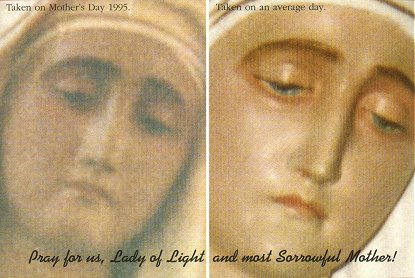 ---
Our Lady of Light
Mary appeared almost everyday from July 5, 1994 until September 5, 1995 at Our Lady of the Holy Spirit Center in the Sorrowful Mother Statue. She said she appeared as Our Lady of Light. She was surrounded by a celestial mist.

On Mother's Day 1995, she told me to buy a portable camera and take her picture when she appeared. This picture can be found on the front of this card.

On March 24, 1997, Jesus asked me that cards be printed with the picture of Mary taken on Mother's Day on the card. She looked alive during the apparition. Compare this picture to the picture of the statue when she was not appearing. Jesus says He has given great signs of the authenticity of the messages.

On March 20 1997, I wrote, "Mary appeared as Our Lady of Fatima for one hour and fifteen minutes. Mary appeared in the Sorrowful Mother statue at Our Lady of the Holy Sprit Center.

As I began the rosary, I began to see Mary covered with a mist. Then I saw light around her. She got bigger than the statue. Her face softened to that of the most beautiful woman-the same as the picture I took on Mother's Day 1995 when she told me to buy film and take her picture."

On March 22, 1997, I wrote, "She was Our Lady of Light and she kept going into Our Lady of Fatima-live in the statue."

She has given us and her son has given us rosaries from the Hearts of Jesus and Mary. (The book, Rosaries from the Hearts of Jesus and Mary, is available.) These rosaries are still received on the 13th of the month with messages from Jesus and possibly Mary. Come to our Morrow center. Many rosaries are live on tape. There is so much more! Call us! Mary wants us to spread the consecrations and rosaries to school children. She wants the Children's Rosary Book published. Jesus and the Father want us to begin prayer chapters praying for the priests, the renewal of the Church and the world, and the priestly newsletter. Contact Shepherds of Christ Ministries: P.O. Box 193 Morrow, OH 45152-0193, phone (toll free): 1-888-211-3041 or (513) 932-4451, fax: (513) 932-6791, or check out the Shepherds of Christ Internet address: http://www.SofC.org !
---
Mary's Message from the Rosary of August 27, 1996
Mary speaks: I stood beneath the cross of my Son, and my Heart was in such pain for I saw Him before my eyes. I saw Him covered with blood. I saw Him die. My Heart, my children, my Heart to watch my Son, but my Heart, my Heart, how I suffered for my little children of the world that give in to this world and give up the love of my Son. O my little children of light, I give you this message. Carry this light into the darkness for your Mother Mary, for I stood beneath the cross and I cried. I cried for the little ones. I cried for the young ones, the ones that do not care and will lose their souls. How do I make you see for you will not listen to me? What can I do? I come. I appear. I beg. I plead. I give you these gifts from my Son, and you reject me. I do not deliver messages very often anymore for I have been ignored. The message is the same. You do not read the messages I have given to you. Please help me. Help the little children. I appear. I appear. I appear, and I am ignored. I stood beneath the cross, and I cried. I cried, and my Heart was in such anguish for my little children, for I am searching for them this day as I searched for the Child Jesus. Please, please help me. I cannot hold back the hand of my Son any longer. I am Mary, your Mother. I ask you to help my children. You are my children of light.

Song: O Lady of Light, shining so bright, be with us this day, guiding our way, O Lady, O Lady of Light.

Mary speaks: I appear to you as Our Mother of Sorrows.
(End of Mary's Message)
---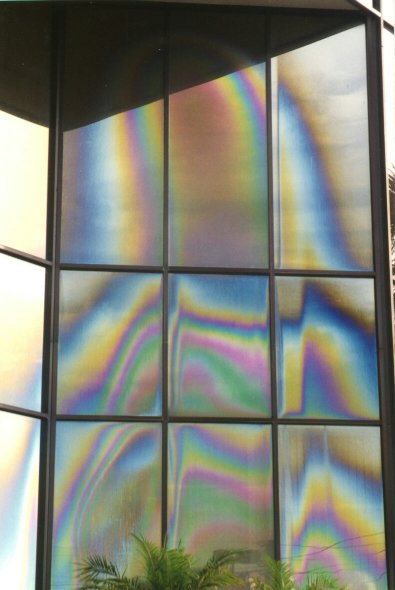 Please come to Florida.
Pray under the image.
July 5, 2000
Special rosary 6:20 p.m.
This is a special anniversary.
---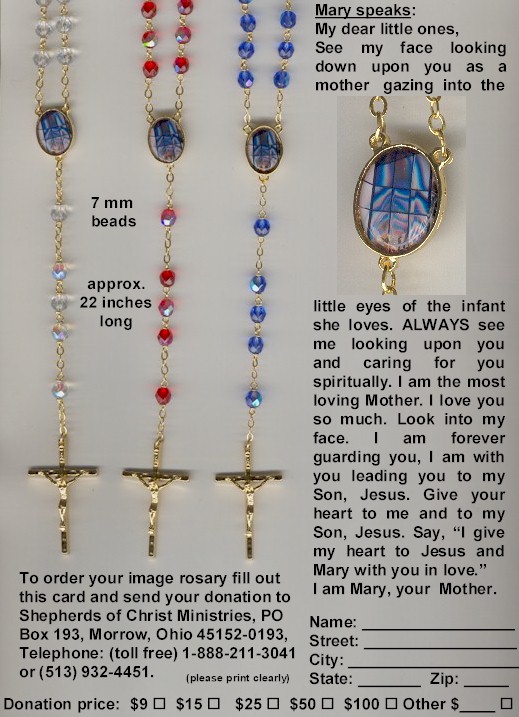 (Please copy and pass out to family and friends.)
---
June 28, 2000 - Third Message
Given the Feast of the Immaculate Heart - June 20, 1998
Messenger: Our Lord has instructed married couples and those in intimate relationships to spend at least ten minutes a day sharing their feelings.
Jesus speaks: In these ten minutes you will find the secret of intimacy with one another. If these ten minutes are skipped your relationship will suffer.
I have instructed married couples to spend time, preferably writing, but at least thinking for ten minutes about the question and then discussing the question.
If this time is set aside each day your relationship will be open. It will help to ward off problems that cause big rifts later on in the days that follow. The time spent in intimate conversation will leave the door always open between the married partners.
Satan works in division. An intimate relationship between two people is a threat to the devil's plan to divide men.
The Trinity exists as Three Persons in One God.
God is love.
I tell you this, My married couples, I wish you to be united in the holiest love.
A marriage is a most sacred union bonded in a sacrament instituted by Christ, the Almighty God.
In a culture that has openly taught its young from generations past that relationships between married couples can be temporary, you are working against a sick society by staying united forever in the holy Sacrament of Matrimony.
---
Genesis 1: 27-31

God created man in the image of himself,
in the image of God he created him,
male and female he created them.

God blessed them, saying to them, 'Be fruitful, multiply, fill the earth and subdue it. Be masters of the fish of the sea, the birds of heaven and all the living creatures that move on earth.' God also said, 'Look, to you I give all the seed–bearing plants everywhere on the surface of the earth, and all the trees with seed–bearing fruit; this will be your food. And to all the wild animals, all the birds of heaven and all the living creatures that creep along the ground, I give all the foliage of the plants as their food.' And so it was. God saw all he had made, and indeed it was very good. Evening came and morning came: the sixth day.
---
Messenger: The word subdue means to conquer, to bring into subjection.
Jesus speaks: I called the man and the woman to unite in holy love. To be one joined in holy love, loving in a family, in a relationship likened to God's.
This relationship is most crucial to the stability of the earth, for it is to be united by great bonds of love.
---
Genesis 2: 23

And the man said:

This one at last is bone of my bones
and flesh of my flesh!
She is to be called Woman,
because she was taken from Man.
---
Messenger: He formed the man from dirt and found a suitable partner for him taken from the side of the man.
The Church comes from the side of Christ.
The Church is His Bride.
---
MY VALENTINE FOR JESUS AND MARY
AND THE WORLD

I _________________ give my heart to
You Jesus and Mary on this day
_________________
I promise to help spread the devotion to
the Hearts of Jesus and Mary.
---
Question for married couples and others in intimate relationships:
Q: How do I feel when you honor me? (This can be through glances, affirming words, smiling, a pat on the cheek, etc.)
---
---
---
Copyright © 2000 Shepherds of Christ.
Rights for non-commercial reproduction granted:
May be copied in its entirety, but neither re-typed nor edited.
Translations are welcome but they must be reviewed for moral and theological accuracy by a source approved by Shepherds of Christ Ministries before any distribution takes place. Please contact us for more information.
All scripture quotes are from the New Jerusalem Bible, July 1990, published by Doubleday.
Revised: June 28, 2000
URL: http://www.SofC.org
Contact Information for Shepherds of Christ
Email: info@SofC.org
---
Shepherds of Christ Ministries
PO Box 193
Morrow, Ohio 45152-0193

Telephone: (toll free) 1-888-211-3041 or (513) 932-4451
FAX: (513) 932-6791