Mary has requested that the daily message be given each day to the world. It is read nightly at the prayer service from her Image Building in Clearwater, Florida, U.S.A. This is according to her request. All attempts will be made to publish this daily message to the world at 11 p.m. Eastern time, U.S.A.

---

We acknowledge that the final authority regarding these messages rests with the Holy See of Rome.

---
August 18, 2002
August 19th Holy Spirit Novena
Scripture selection is Day 3 Period II.
The Novena Rosary Mystery
for August 19th is Glorious.
Please come to the Sidney Rosary
August 20, 2002 - 6:20pm.
It will be really powerful.
All sub-centers should hook in that can.
---
We have orders from Bishops and priests requesting prayer manuals and books and we need funds for postage. The orders are ready but we cannot mail them. Also we desperately need funds for bills for running of the movement, telephone, water, etc. Please if you can help us.

Pray for a personal intention.

Pray for 2 very urgent intentions.

We are praying on the hour for funds. Please pray with us.

Credit card donations accepted.

Shepherds of Christ Ministries
P. O. Box 193
Morrow, Ohio 45152
1-888-211-3041

Novena to the Infant of Prague
(to be prayed hourly if possible)

O Jesus, who said, "Ask and you shall receive, seek and you shall find, knock and it shall be opened to you," through the intercession of Mary, Your most holy Mother, I knock, I seek, I ask that my prayer be granted.

O Jesus, who said, "All that you ask of the Father in My Name He will grant you," through the intercession of Mary, Your most holy Mother, I humbly and urgently ask Your Father in Your Name that my prayer be granted.

O Jesus, who said, "Heaven and earth shall pass away, but My word shall not pass," through the intercession of Mary, Your most holy Mother, I feel confident that my prayer will be granted.

---

Pray for 4 very urgent intentions.
Pray for 2 personal intention.
Pray for a particular bishop and cardinal.
Pray for the pope.
Pray for all the bishops of the world.
Pray for Sarah.
---
August 18, 2002
Messenger: Dear People,
We prayed so deeply at Mass for the salvation of souls.
We prayed so deeply so the souls of the earth
would know Jesus and honor Him as God.
We prayed that Jesus would be the King and Center of
the hearts of the souls of the earth.
We prayed so deeply for our Bishops and priests and
the Church and the world.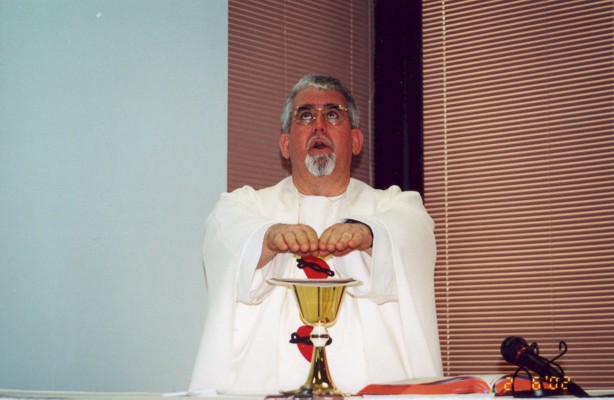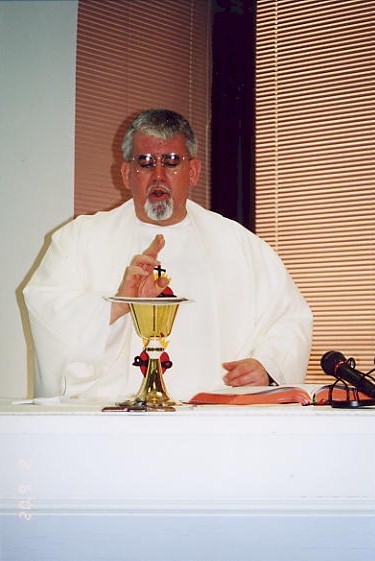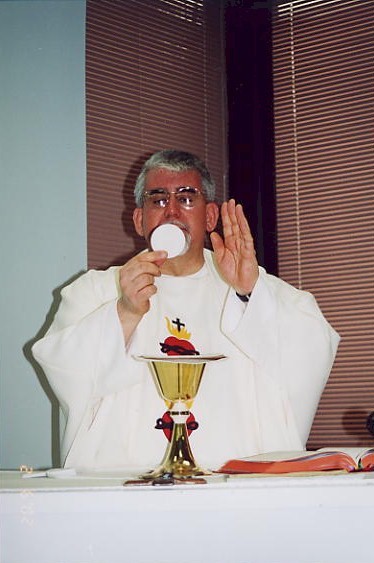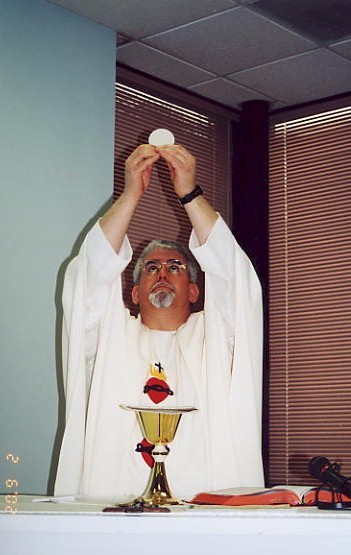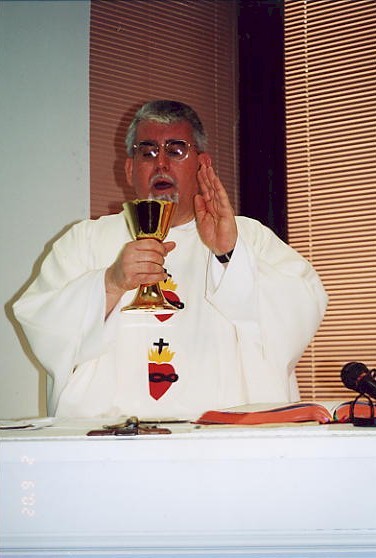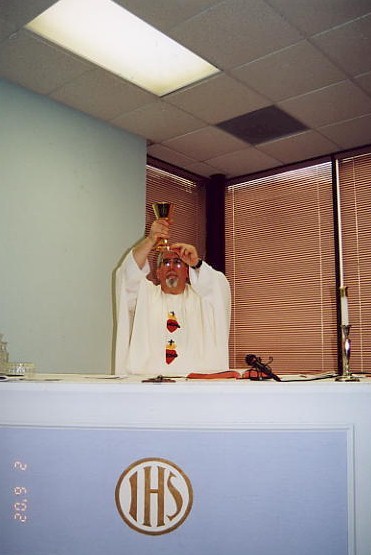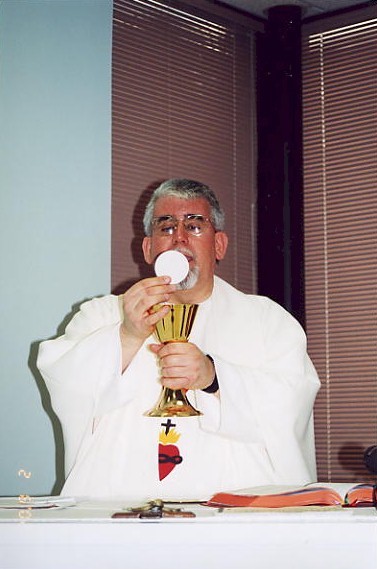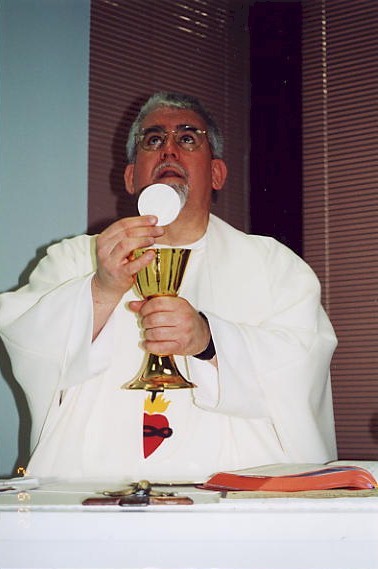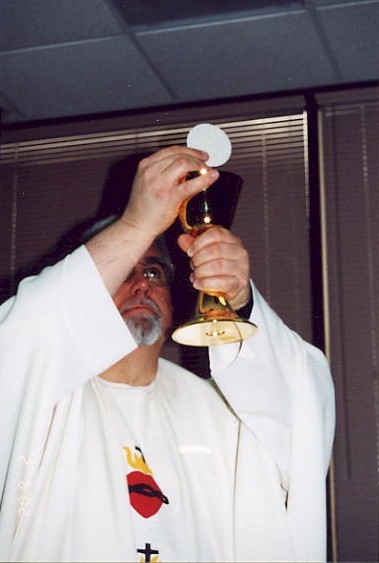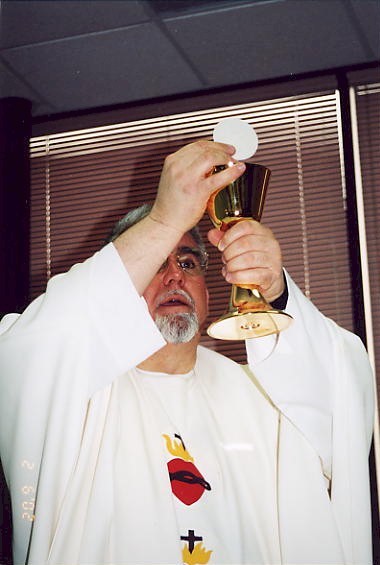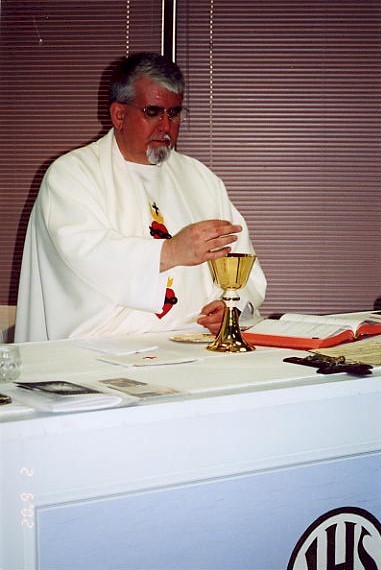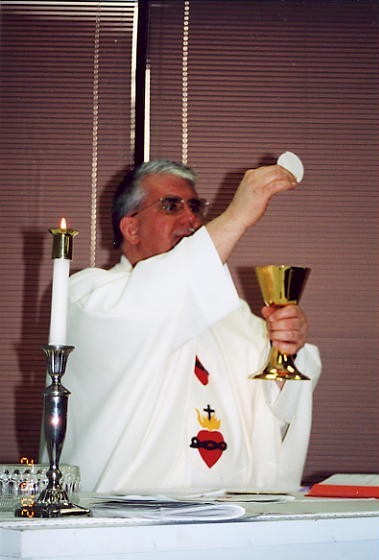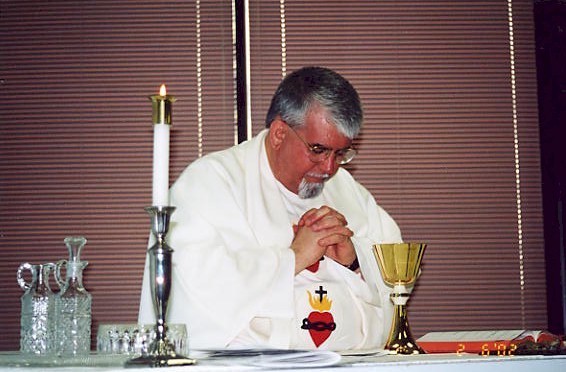 August 18, 2002 message continues
Messenger: The Mass is celebrated all over the world by
our beloved priests.
Please pray for us to be able to do what God
is asking us to do.
I write to you as a messenger from God.
Oh my people so many today, do not believe
Jesus is the Son of God!
Oh at every Mass we can pray so deeply for
all the souls of the earth.
Pray that they will know Jesus, know He is
the Son of God, know His love and
love Him.
I am a messenger from God.
I deliver a message.
It is up to the people of this earth
to respond.
It is not up to the Shepherds of Christ
members to come up with all the
money to support this mission.
Here is your sign, Jesus is speaking
here.
Look at these images on the building
| | |
| --- | --- |
| March 5, 2001 | May 5, 2002 |
August 18, 2002 message continues
Messenger: Here are the 5ths when I have been sent to
Florida and when we have prayed at 6:20.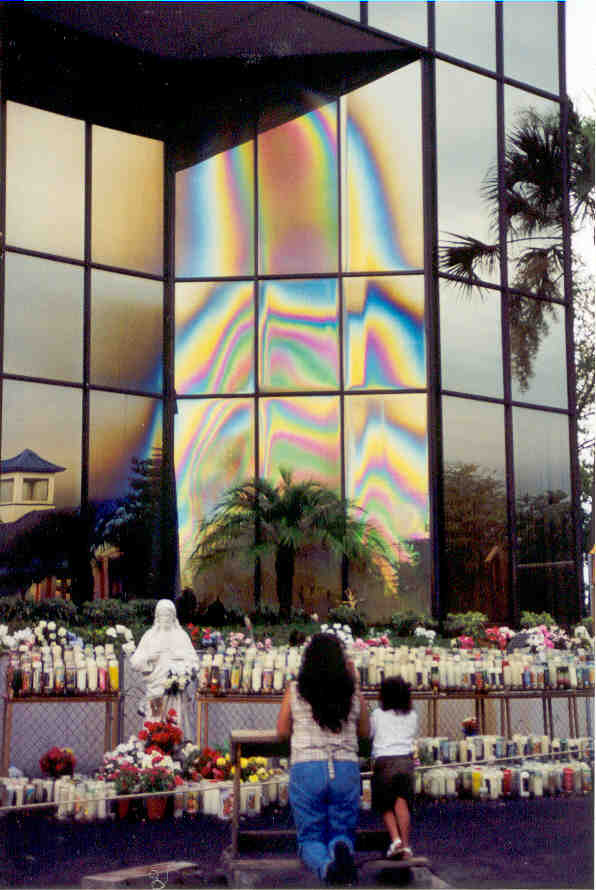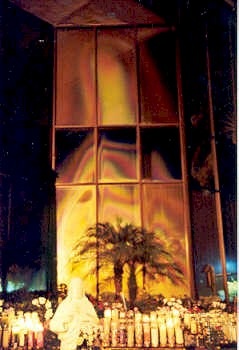 July 5, 2000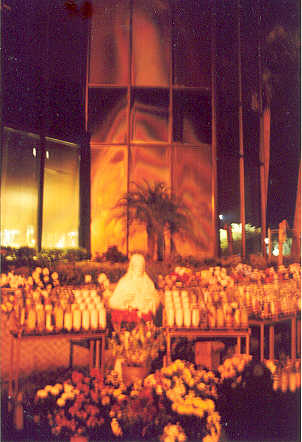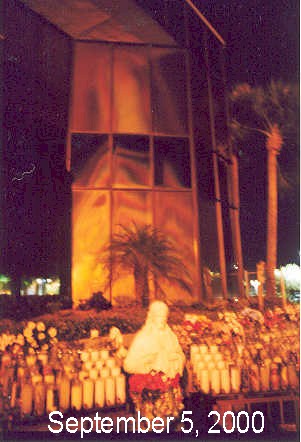 September 5, 2000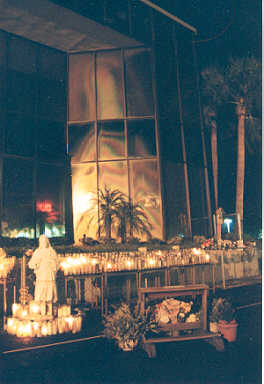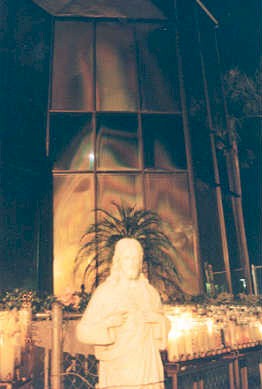 October 5, 2000
| | |
| --- | --- |
| | November 5, 2000 |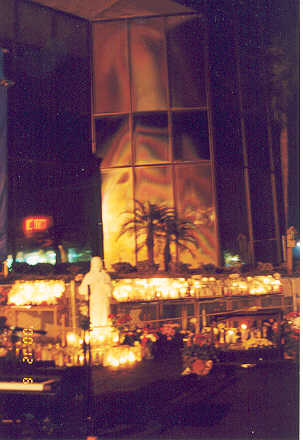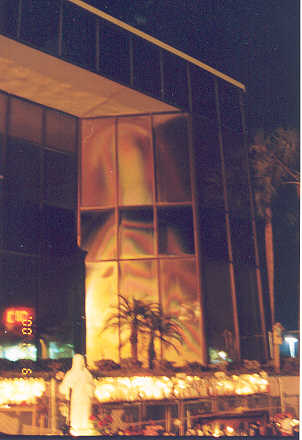 December 5, 2000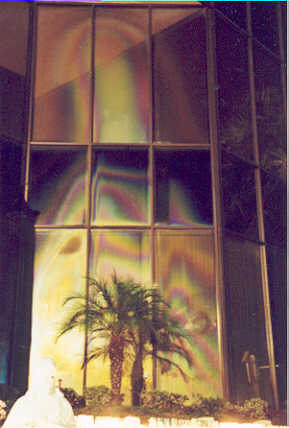 December 17, 2000 4th anniversary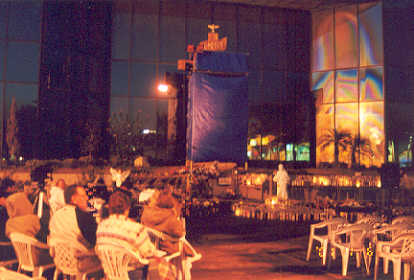 January 5, 20001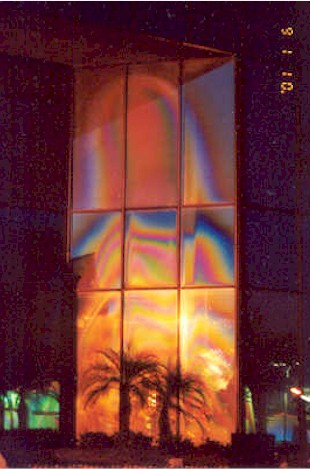 January 5, 2001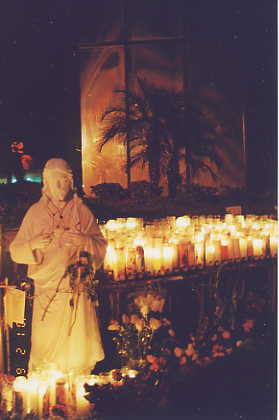 February 5, 2001 face of Jesus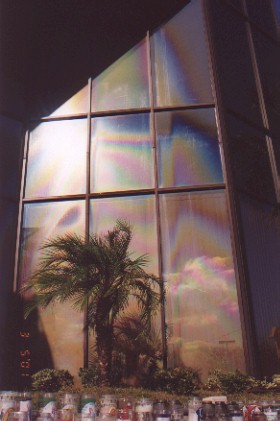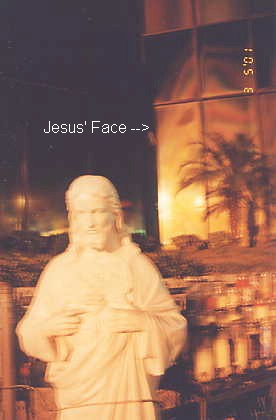 March 5, 2001 white Mary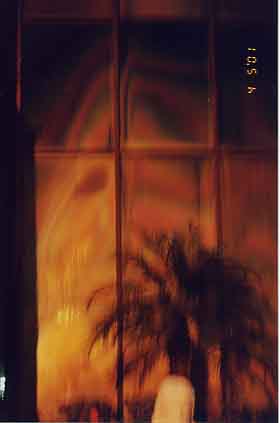 April 5, 2001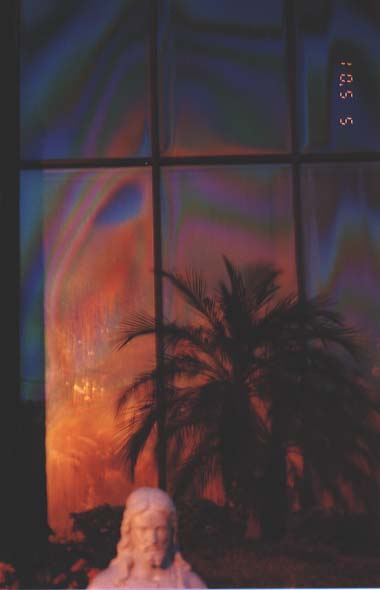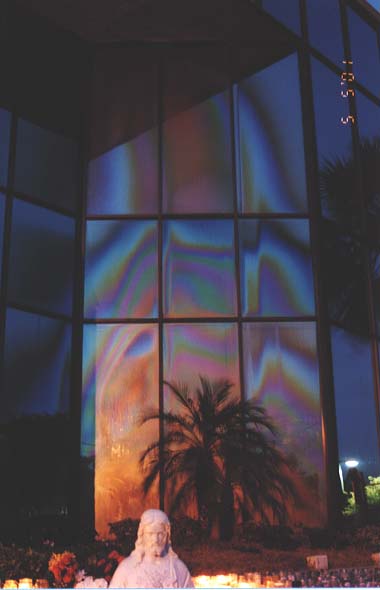 May 5, 2001
| | |
| --- | --- |
| | |
| June 5, 2001 | June 5, 2001 |
| | |
| --- | --- |
| | |
| July 5, 2001 | July 5, 2001 |
| | |
| --- | --- |
| August the 5th prayer meeting - 6:20 | August 5, 2001 |
| | |
| --- | --- |
| | |
| September 5, 2001 | September 5, 2001 |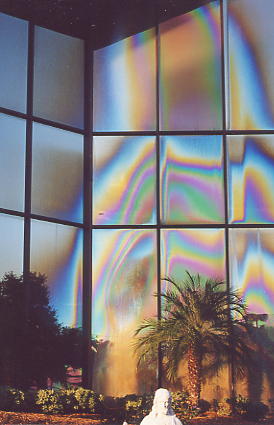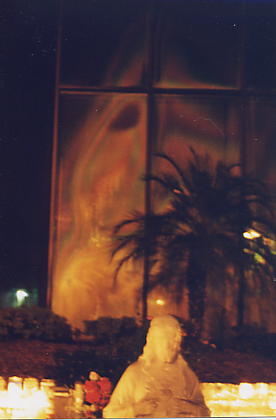 October 5, 2001
| | |
| --- | --- |
| November 5, 2001 | November 5, 2001 |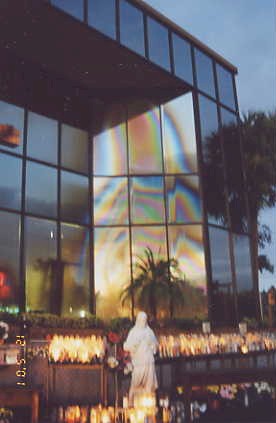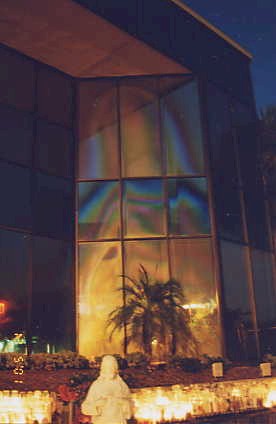 December 5, 2001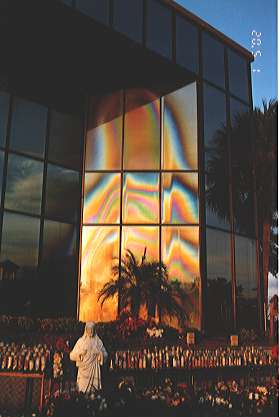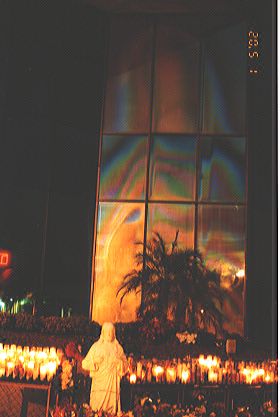 January 5, 2002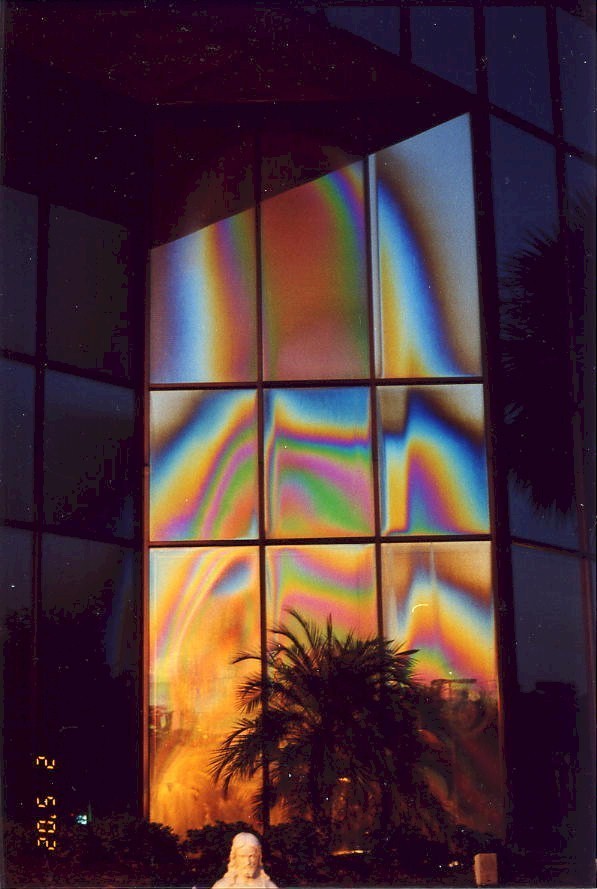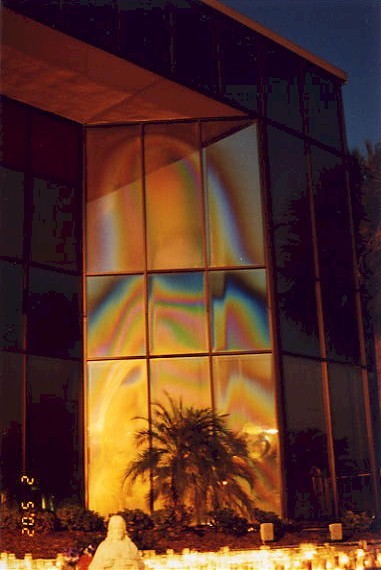 February 5, 2002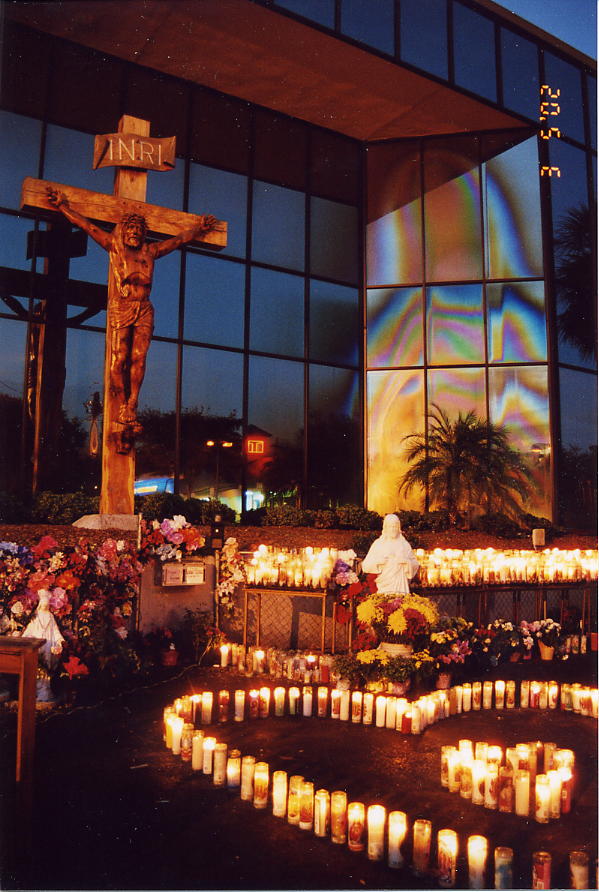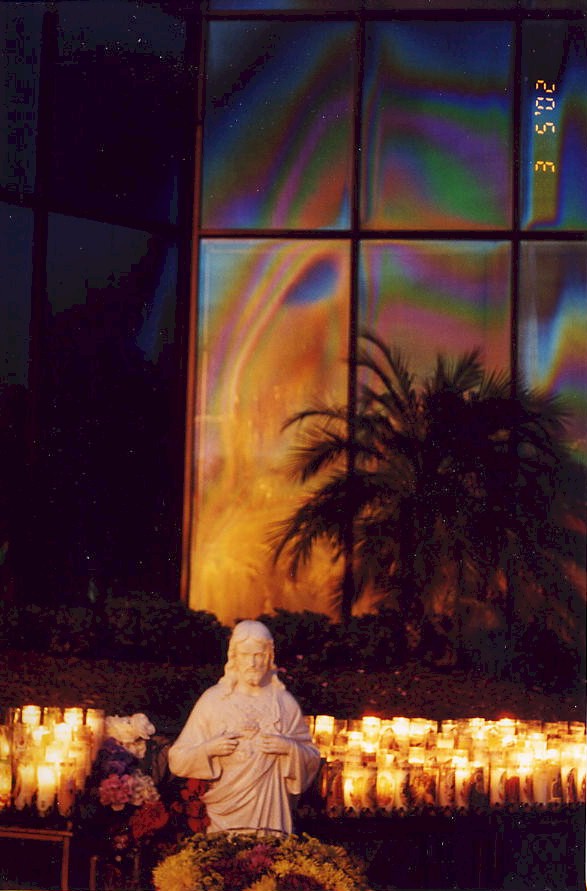 March 5, 2002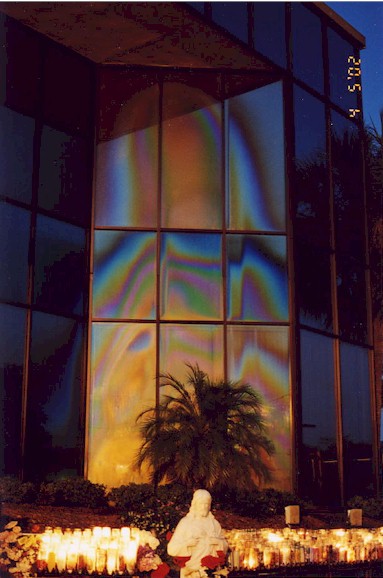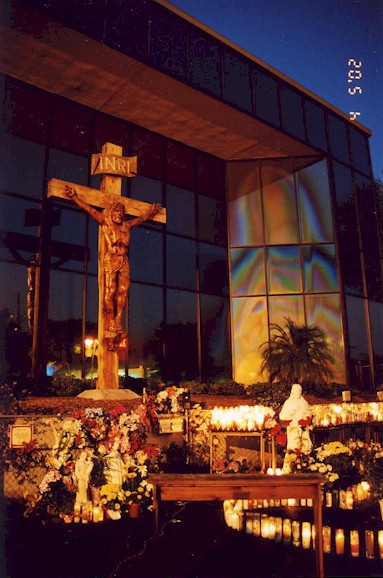 April 5, 2002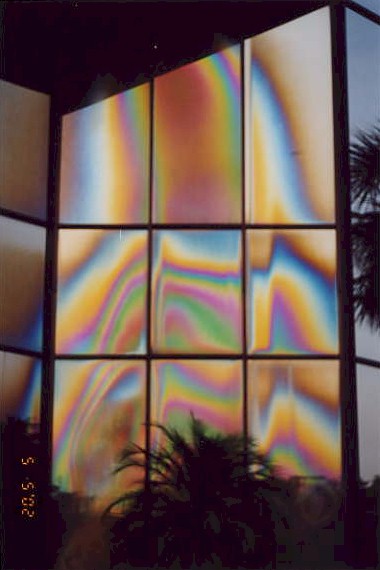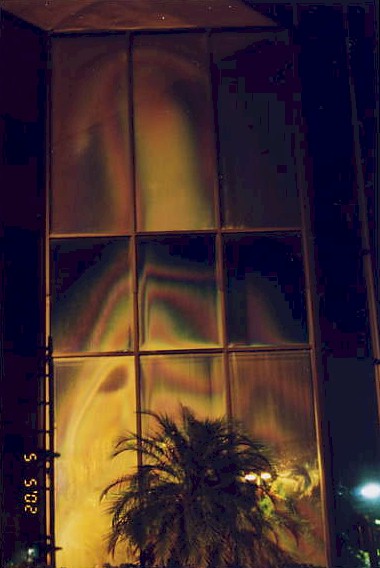 May 5, 2002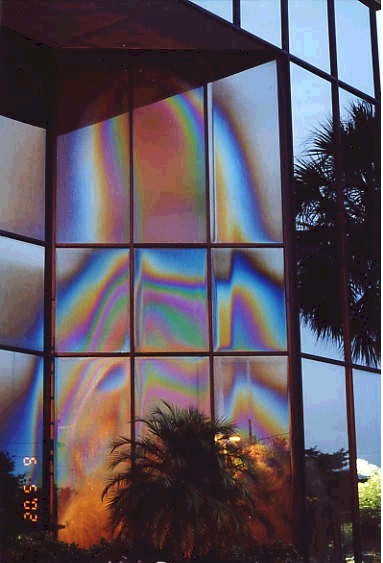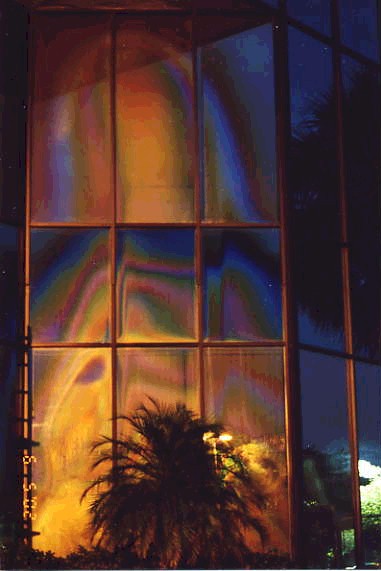 June 5, 2002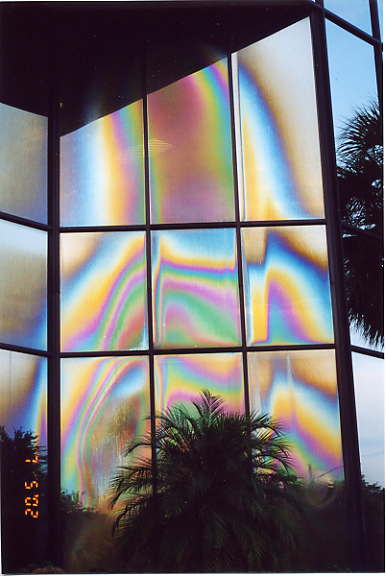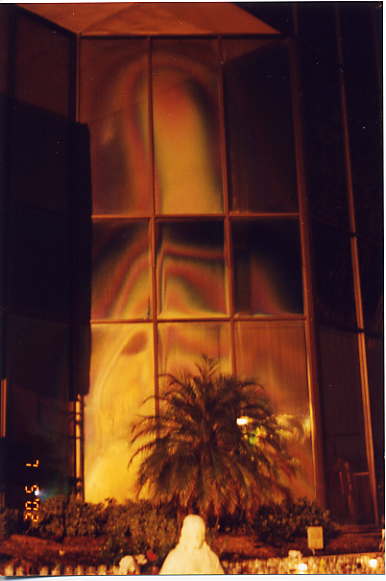 July 5, 2002
August 18, 2002 message continues
Messenger: Here is how Our Lord has asked us
to pray at 6:20 daily.

Yellow book
(Holy Spirit Novena)




Red Book
(Shepherds of Christ Associates
Prayer Manual)

Rosary
---
Kenya


July 2002

Dear Fr. Carter,

I am writing this letter in confidence that you will assist us in our efforts for the spread of the devotion to the two
hearts of Jesus and Mary.

We are an association of 850 Youth and junior youth by the name "Little Shepherds of Christ".

Kindly send us:

- Shepherds of Christ prayer manual and spiritual books.

- Rosaries

- Prayer chapter information packet and Shepherds of Christ
prayer cards.

YES WE
WILL PRAY WITH
YOU!

With Mary, to serve and to Love.

_______ Co-ordinator
---
India

25 July 2002

Dear John Weickert, President

Loving greetings to you from Bishop _____.

Received your kind letter and the parcel of Newsletter Book II specially sent for me. Thank you for the same. Previously I had been receiving the Newsletter for my priests in the diocese. I am at the receipt of the red Associates Prayer Manual (prayer for priests) too. I will be happy with you kind help, to translate these books of course with the Imprimatur into our _____ language, which is known as the Italian of the East, so that the books may reach to every corner of this region and thus people making use of the books pray for the priests. I too feel that all must pray for the priests and for his holiness.

I would be happy to join with the mission of Fr. Edward J. Carter. In the meantime you please send me another set of 100 books II for my religious sisters and brothers in the region.

Assuring my prayers and blessings for your prayer mission, I remain.

Yours in the Lord,

+ ________
---
To: info@shepherds-of-christ.org
Sent: Monday, August 05, 2002 7:41 AM
Subject: Letter for Mr. John Weickert from Bishop_____

Dear Mr. Weickert,

I am in receipt of your letter dated 13.5.2002 which seems to have reached me very late, indeed, just a few days ago.

I would like to say the following:

1. I was very said to learn of the death of Fr. Edward Carter. He died
in the year 2000 but I had not realized this till I got your letter. I think
Fr. Carter was an extraordinary man, doing an extraordinary work. I
am so glad that you and others continue this inspiring ministry.

2. Over the past few years, I have been the recipient of many
kindnesses from your organization which I wish to acknowledge
with warm thanks and appreciation.

3. I feel sorry that, for various reasons, I can do little to help financially.
However, if I can offer some masses (about 15) for the intentions
for your organization for which stipends may be available at your
end and which could be used as a contribution to your finances, I
would do this with great joy. Please letme know if this helps.

Please convey my warmest good wishes and thanks to all the members of your organization. May Lord continue to use Fr. Carter, in his newfound union with Him to renew the priesthood across the entire world.

Gratefully,

+ Auxiliary Bishop ______
August 18, 2002 message continues
Messenger: This is prayer power.
Oh I prayed so deeply at Mass today and
it was so powerful.
Here are pictures from the 33 minute
video we have on the Mass.
It is called the Little People's Mass Book
(available, little book, 33 minute video)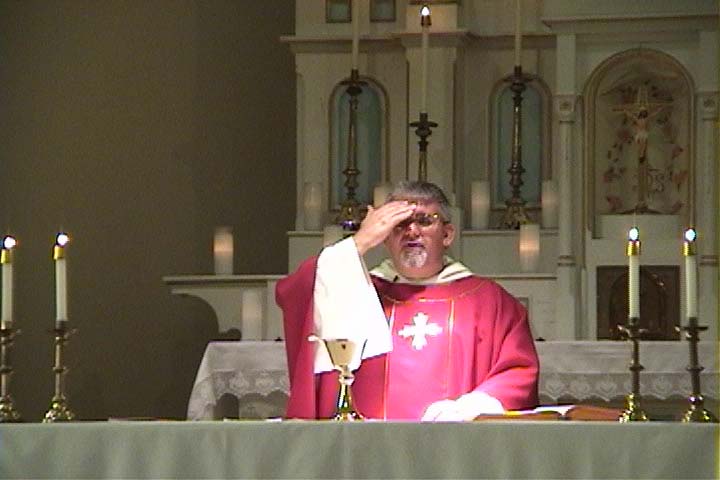 The Sign of the Cross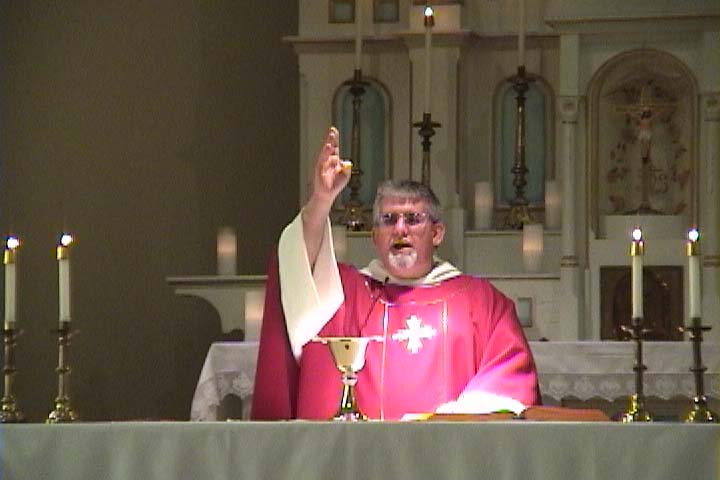 We begin asking God
to forgive our sins.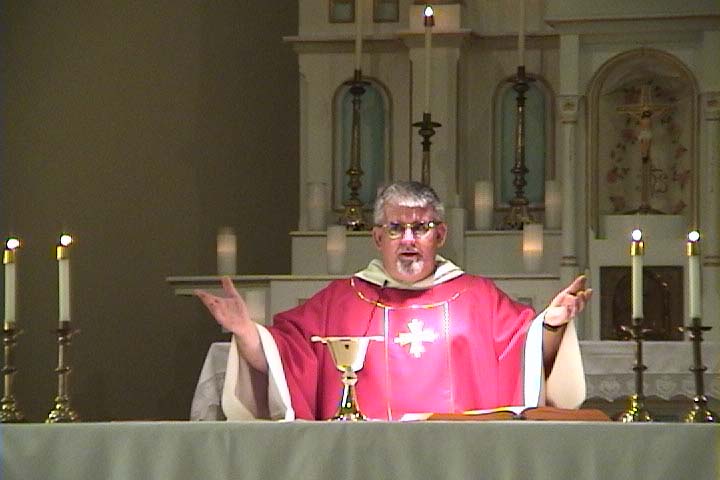 The Opening Prayer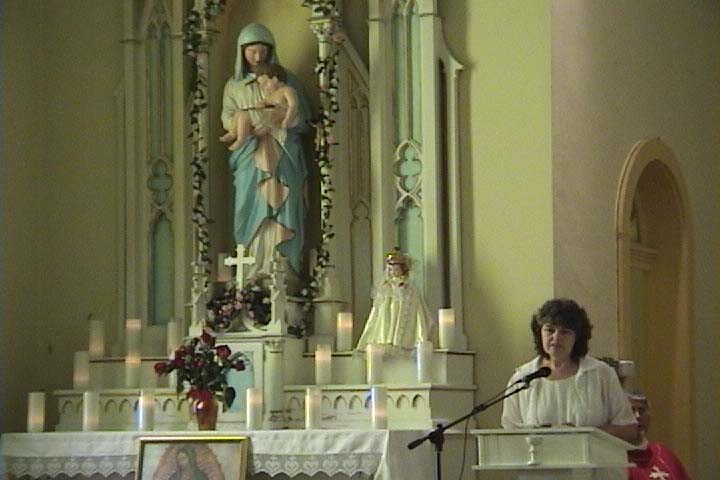 The First Reading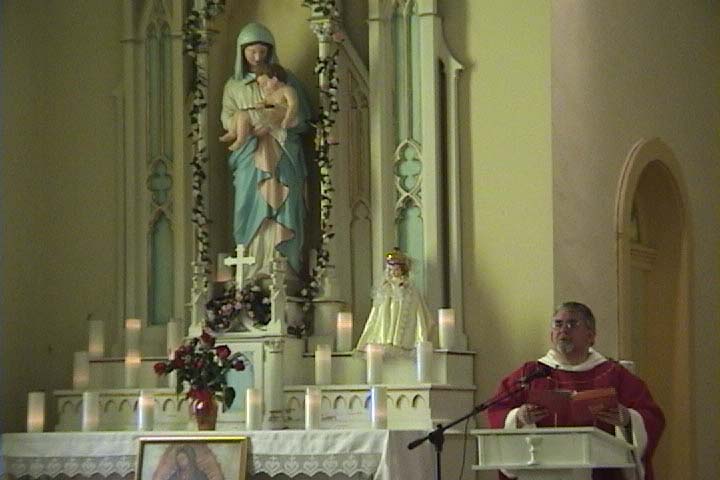 The Gospel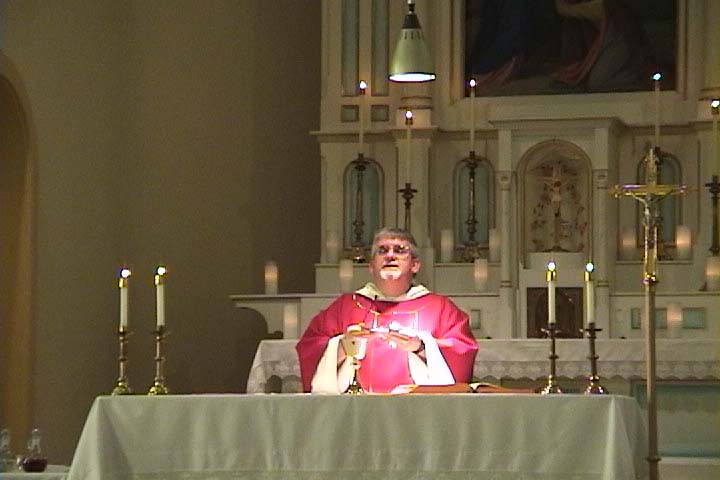 The Offering of the Bread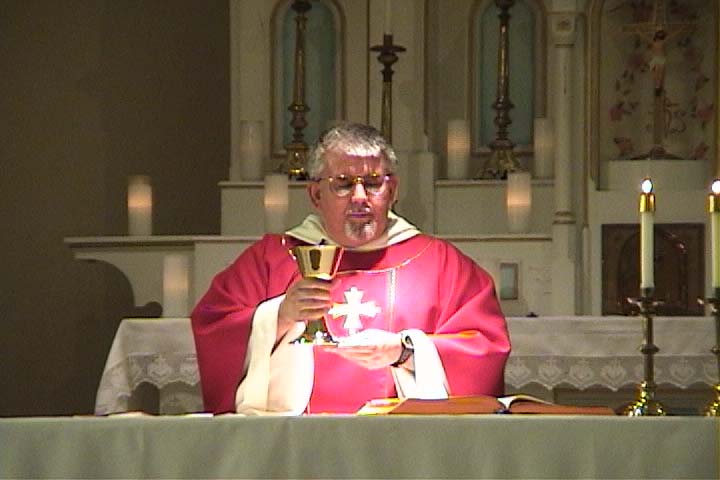 The Offering of the Wine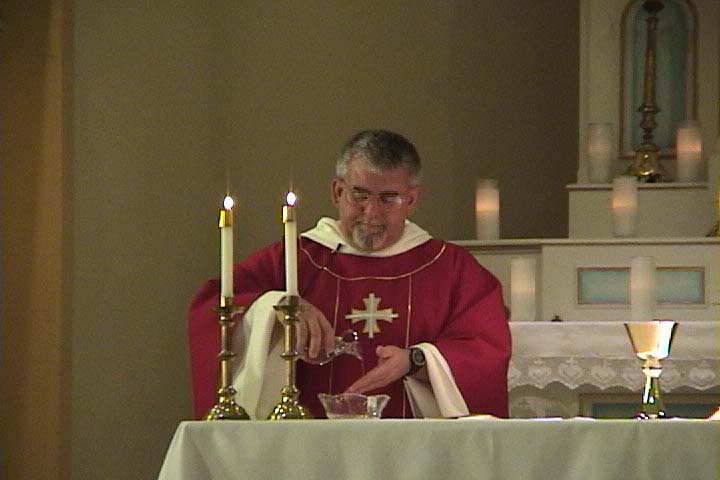 The Washing of the Hands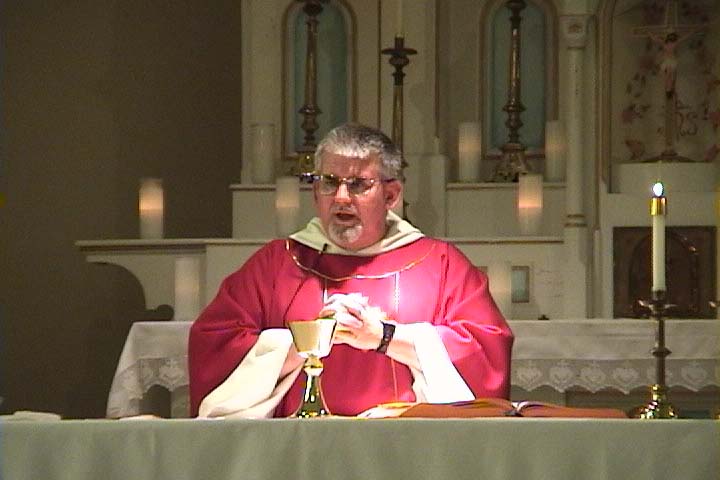 The Holy Holy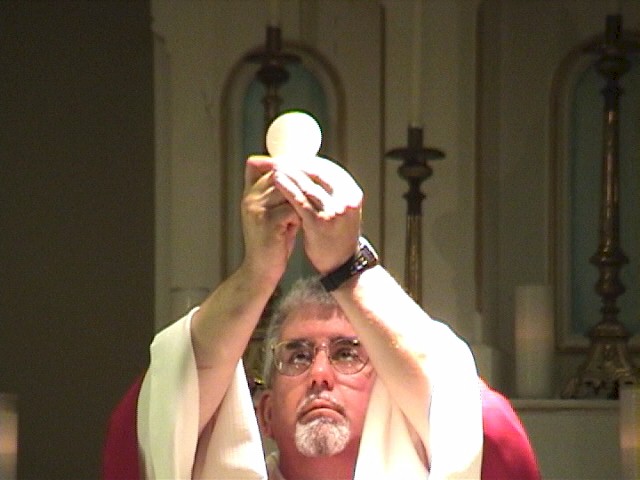 The Raising of the Consecrated Host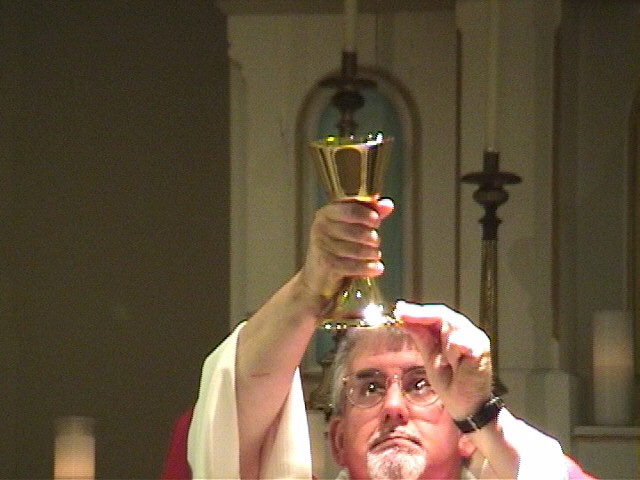 The Raising of the Precious Blood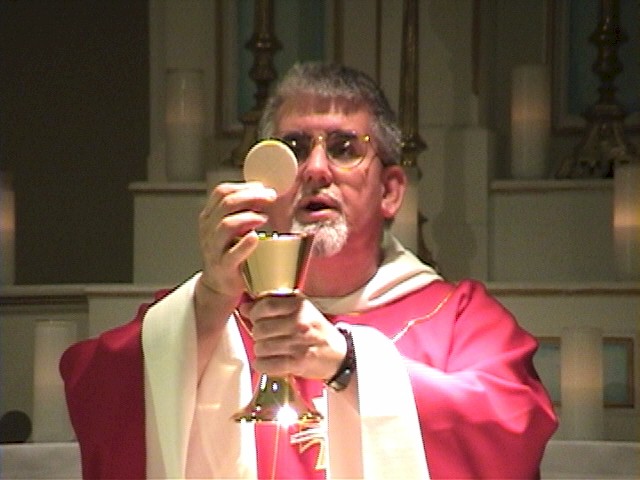 Through Him, With Him and In Him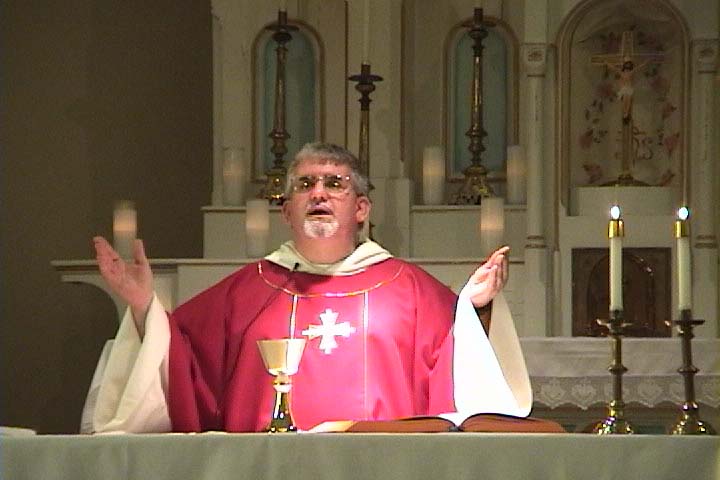 The Our Father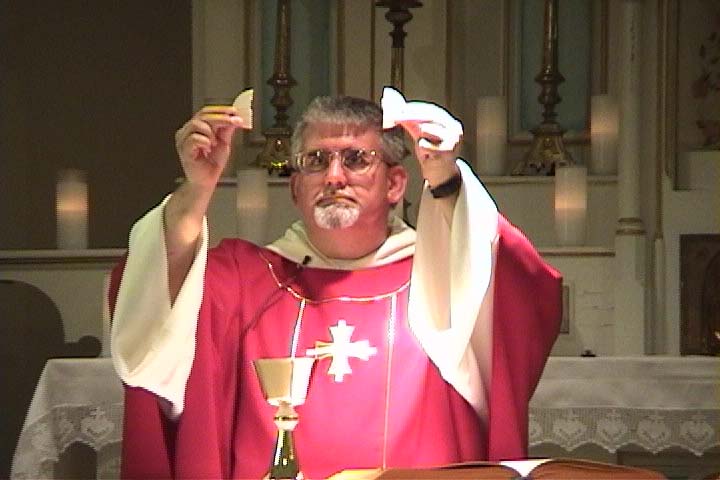 The Breaking of the Bread
The Lamb of God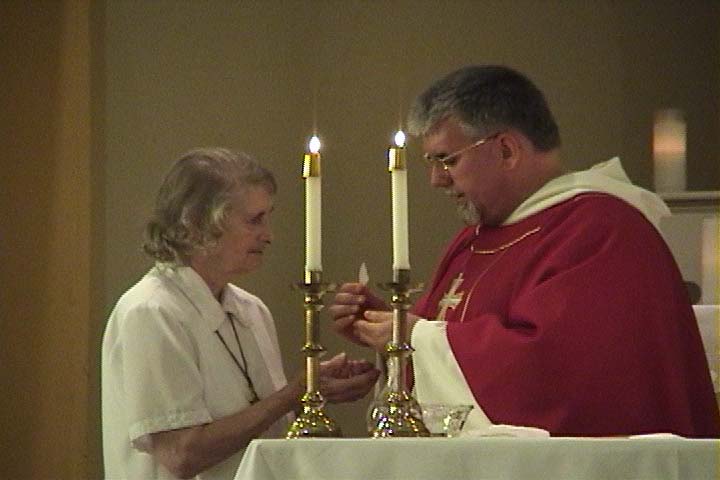 Communion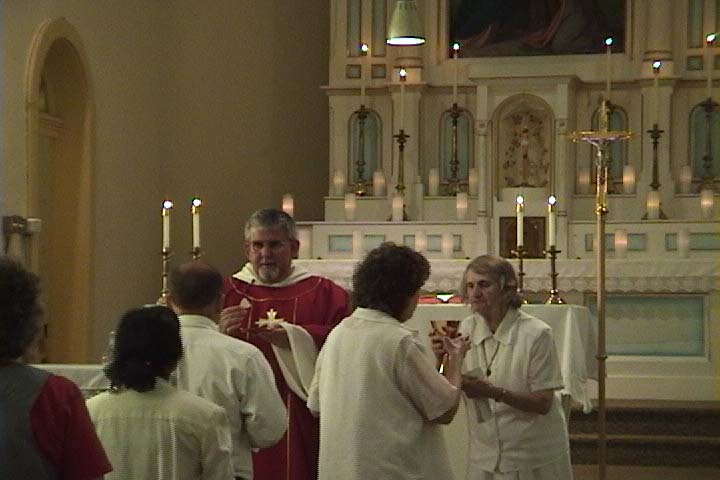 Communion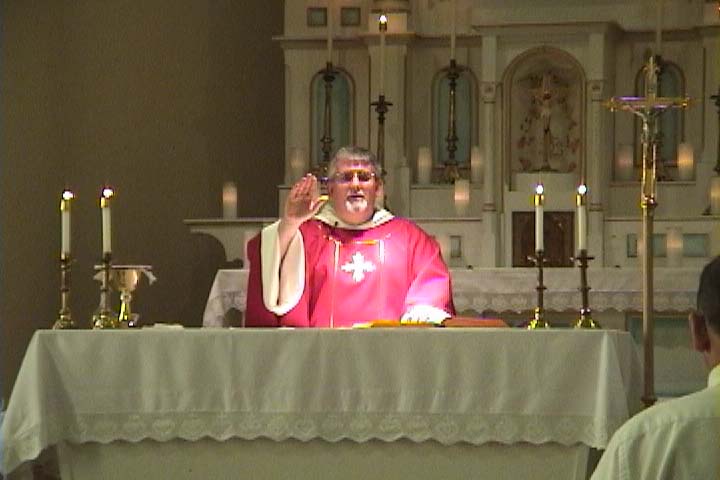 The Blessing
August 18, 2002 message continues
Messenger: Prayer Power
Take this video on the Mass to the Catholic
Nursing homes and show it.
Use the other videos for the Nursing
Homes from Mary's image site.
Please help us circulate these cards
to Nursing Homes and children
and all.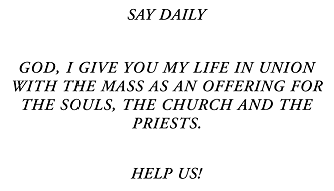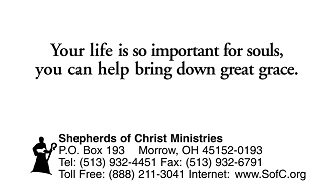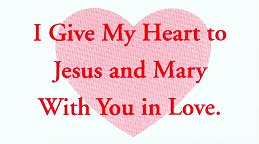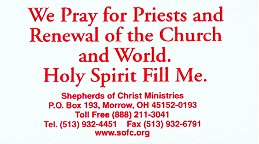 August 18, 2002 message continues
Messenger: Please pray for Cathy.
Please pray for the message of August 16, 2002.
This is a most serious message.
Study it.
Ask God how He is asking you to help.
Think of the rain how it waters the
earth.
I looked at my flowers outside of my
house, they are so beautiful, a
lady, my friend, Delores planted
them for me, she helps me do a lot
of my household chores so I can do
all the Shepherds of Christ work.

Well she was in the hospital and sick,
I ask you to pray for her.
I had to take care of the flowers she
had planted for me, sometimes she
helped me after she planted them,
usually I didn't have to do all the
watering. She would do it part of
the time.
A line from a song comes to mind,
"The seeds were sown by other hands
than yours."
From the Song: Come with me into the Fields
Fr. Carter was given a mission from God to write
the Newsletter and begin the movement,
now the time is here for us to plant the
seeds and spread them and to water them.
These messages aren't for a few, they are
for the whole world.
Do you think I knew what would happen
with all my writing when I received
this message.
August 16, 1993
I was on a plane going to a convention
for my husbands work with my
family.
Read these words:
August 16, 1993
Messenger: Dear Jesus, Please come to me and write to me now, I really need to be alone with You and hear Your words, please talk to me.

Jesus speaks: My dear child, put your fear and anxiety aside. You are coming for My truth. I am the Truth. I live in you and you are watered by My words of truth. Deception is very troublesome to you when you live in My truth. On any scale deception is not at all funny. I know you cannot watch a movie anymore, it is not of God. Do not give in to the ways of this world. Feed yourself with only that which is of Me. Turn your entire life over to Me, trust in My ways and make them your own. Read and reread each letter, go back to your old letters, know them by heart so My words and thinking will become engraved in you. You must speak from My truth. You must be filled with My wisdom. You must not falter or wonder, but be confident in these words I write to you. My work for you is to speak My truths. You must study them and know all I have taught you. Those are your lessons. All that is not of Me will become so foreign, you will want only to choose My way, but you must teach yourself with My letters. I am the WAY, the TRUTH and the LIFE and he who abides in Me will have the light of life. The life I give you is not of this world. It is rooted in My words and My truth. Only I can teach you My truths. This world is so full of error. Unless you keep constant in My teachings by reading My words, you will go astray. My words are the food by which you are nourished and fed. My words are your drink, they are your food, they are your all. You will run and not grow weary, you will fly like an eagle. Joy will abound in your heart and you will know that true joy comes only from Me. All other joy is momentary. My joy is everlasting and full to the brim, You, My child, can have this joy if you stay fixed in My words. Savor them and decipher all their meanings for you, this is your truth, this is your victory over Satanís lies. This is how you will help others to know Me. Your instructions are very clear, My child. STUDY each letter and try to understand all of its contents. They are words meant for you so you can speak these truths to others. It is not by chance you were chosen by Me, My child. You are a teacher, you are convincing in all you believe in. Believe in these letters and memorize My teachings until they flow from you as from your very soul. You must put aside your doubts now. Keep these letters by your side. Your life here will be always put into perspective. You will not get caught up in foolishness, or worry for any reason. I AM HE, I AM here. Your work is clear, study and learn My words so they become engraved in you. Speak of My words to all. I am the Way, the Truth and the Life and you are My messenger. I speak the truth to you that you will speak the truth to all. No time to wait, time is so short. Be busy studying My teachings now. Keep them in your purse, underline and read them again and again. These are not just for you, they are teachings of My love for all My children. Each child needs to be told about My love. Reach as many as possible through your speech. I am by your side, giving you what you need. The crooked ways are made straight, the weary are sent away in rest. Your voice will be My tool to reach many. Make yourself like jello. I will form you into what I want you to be. You must remain formless and be molded by Me. I am this close to you, My child. You will take some knocks, but you will be the key to unlock many doors. Use you I will, let all busy things behind. Focus on Me at every moment. This is My desire for you to speak My truth. I will be with you, little one, do not be afraid. I will tell you the way.

Messenger: Oh my Jesus, how You want me to do this I do not know. Show me how it is to come about or put me somewhere and I will now study Your words for me. For He made me humble and taught me His ways, which are the only ways to go. All other ways are not of any account. His way is the way to victory, the cross that leads us to glory, joy and peace in this life and glory and salvation in the world to come. He bound up my foolish ways and taught me His truths. My tongue was made clean, and my heart was full of His love. He cast away my doubts and fears and filled me with the gifts of the Spirit. His light He shined deep into my soul and He washed me in His Blood and I was made ready to do His work, an honor that I do not deserve, but long to fulfill for Him, my God, my All, my Jesus. Him I love and He has bestowed on me a great dignity. With love and respect He clothed me and made my broken heart and soul whole in Him. I am the fortunate one to know this one, true magnificent God. I bow in awe at all His greatness.

I am in awe at His love for us all. In our lowliness and sin He reached out and clothed us with dignity and showered us with His love and we were like the flowers after the rain, blessed by Him in His greatness. We are His children, Alleluia, Alleluia. Praise the Lord. Amen.

end of August 16, 1993 message
August 18, 2002 message continues
Messenger: At this time I have never written a book.
About a week later on August 23, 1993,
I asked Jesus to tell me about His
Passion. I was praying on my deck
and He gave me the following
writing with the promise to teach
me more and more about His
Passion.
August 23, 1993
On His Passion

Jesus speaks: My dear child,
I was condemned to death, death on a cross. They gave Me a big cross and made Me carry it. They stood around and glared at Me. It weighed on My shoulder and I pulled at it until it finally moved. Every step was almost impossible as I dragged it, weighing so heavily on My shoulders.

My shoulder felt as if the bones inside would crack and the cross would fall through to the ground. I couldnít drag it any more. I tried, I fell. I fell and its weight fell on Me. A guard hit Me with something sharp. It really hurt because he wanted Me to move, and fast! People were watching—on with the show! How dare I fall in the middle of the show! He hit Me again and the blow really stung Me. I got up because it hurt so badly. I tried to walk on.

My Mother was in the crowd. She looked at Me and her face looked red and hurt. Tears rolled down her cheeks like rain and as her eyes met Mine, I was hurt so by her sorrow! She was always by My side, silent and loving. She was My mother of love! She is always there next to you when you suffer.

I fell again and he (the guard) really hit Me. It (the cross) was so heavy that he and I together could barely move it. It seemed as I walked, heavier with the sins of the world heaped on it. My hands were bleeding. Blood ran from the wounds of My thorns and My head throbbed, seeming to make the wounds in My head bleed even more. Some of the Blood was dried, some of it running all over My Body. I had so many cuts and bruises—and people watched and laughed!

I am Jesus, Son of the Living God, and they laughed and mimicked Me! Oh, such hardened hearts! How vile can menís heart become? The devilís grip is paralyzing and crippling.

The walk was so long up a hill and over rocks—the cross had to be lifted over the rocks. My Body was bleeding so badly! My heart was pounding. I knew that the salvation of all men depended on My love. Therefore, I went through such agony.

I thought of My intense love for you—that many would go to heaven because of My suffering—and I continued to the top of the hill. At the top they laid Me on the cross and with a big hammer nailed My hands to it. It was the worst (suffering) yet. My hands were nailed with big nails and the big hammer. Oh, it was unbelievable! Then, as if that werenít enough, with a big nail they nailed through both feet.

Then they lifted the cross and banged it into (a hole in) the ground. My shoulders ached from how I hung. My head bobbed and My neck ached and they laughed and said, "Now save Yourself." I hurt so much! I suffered this way for hours—which seemed like forever—and they glared at Me and laughed! My Mother watched in such agony.

For love of you, to My death I gave you My Body. My child, I shed My Blood and gave you My life that you might be with Me forever in heaven -- not for a day, a month or a year, but forever with Me in heaven.

I am the true Bread come down from heaven. He who eats My Flesh will have life forever. For the drink I give you is My Blood and food you eat is My Body. Who would lay down his life for a friend? I did, for you. I love you this much, child. Forget about those who reject you. You have My life that I gave you and I give you life eternal.

I am the One true God. I am the Light of life. He who abides in Me will have life eternal, for the drink I give is My Blood and the food I give is My Body. Drink and eat and have everlasting life.

My child, that is all you need to know. Love one another and be good that you may enter into My kingdom.

end of August 23, 1993
August 18, 2002 message continues
Messenger: And then Jesus began telling me a lot
about His Passion after that.
December 18, 1993—9 years before
Fr. Carter died, (I didn't even know
Fr. Carter then) I got the following
writing.
Take Up Your Cross

December 18, 1993

Pain? Oh, how I suffered! The pain was so intense, I could hardly bear it. I was so wounded and so covered with blood. Think of a little gash and how it hurts when it begins to bleed. I bled and I bled all over. Such intense pain. Every time you experience pain, think of Me and how minute your little pain is. There was not a place on My body that was not covered with blood. There were deep wounds all over Me. My head throbbed from the crown they had placed on Me and I was forced to carry a big cross so heavy, I scarce could move it on My shoulder. My shoulder ached so badly I felt as if it was constantly breaking by the weight of the cross. But I carried it and pushed on My way. If I stopped, I was poked and pushed and hit. The crowd jeered and they forced Me on My way. What crime had I committed? Why was I forced to endure such torture? It was out of love of you that I continued that journey. I was God. I could have stopped at any moment. I was obedient to death to the demands of My Father.

Pain, child? I suffered so much for love of you! This is how I love you at this moment. In all that befalls you you must know at every moment that I know exactly what you are suffering. There is nothing that happens in your life without My consent and it comes from Him Who loves you.

Take your crosses and truly endure them. Accept them. Know that everything that happens in your life I have allowed. Accept it with the love with which I give it. You are being taught in that pain. You are suffering for yourselves and others. I endured all that pain. Did I once say, "Father, take it away?" I am your model. I showed you the way. I took it all, every last wound, every kick and smack and vileness. I took My cross and I carried it without a word. This is what I ask of you. Know that when you are experiencing pain or suffering, or being taunted by those around you, look to the Master for your course of action. I took it all, every last wound, and accepted it to My death. I did not say, "Oh, how awful." I did not complain. I walked in silence that bumpy road with a heavy cross, with My mother suffering by My side and I never complained. I accepted it all for love of you.

Carry your crosses, little ones. They are gifts from Me. Do not look for an explanation or a way to get rid of them. I will take them when I think you have had enough. It is in suffering that you experience My life more fully. It is in suffering that I speak to you in a special way. Endure it. I know every ache and pain you are experiencing. I am this close to you! Your pain may save a soul dead in sin or get a soul from purgatory. Accept all I send you and don't complain. A lot of the pain is enhanced by your rejection. A lot of your lessons are lost by your refusal to see that crosses come from Me. I give you crosses to share in My suffering. I love you so much, little ones. Know how personal I am with you: the very hairs of your head are numbered. Come close to Me and look into My eyes. I am truly here with you at every single moment. Think of Me as a person, but I am closer than any person could ever be! I am there and I know your every breath and I care about your every breath. Who could even do this for another? Others would have to sometimes think of themselves.

I am God and I can think of you at every instant. I am so close to you you do not have any comprehension. It is not a myth. I am truly present to you at every instant. Feel My presence. Make Me alive to you. Experience all I have to give you. You will know Me as your personal Jesus the more you read and re-read these letters. I write them to each of you. Only God could love you each this way. Focus on Me and you and how close I am to you. I love you so, little one. Whence you go you never walk alone. I walked a road of torture that led to My death for love of you! When will you realize what I say is true? When will you know how close I am to you and embrace Me as I so desire? You hold yourself back because you do not focus on My love for you. I would walk that path this day for you. I love you the same this moment as I did then. Oh, little one, you want to put your little crosses down so fast. Hold them and walk awhile with Me down the road to Calvary. Be by My side and share a little in how intently I trod out of love of you.

I am Jesus, Son of the Living God. I am alive in this room with you. I am by your side. A toothache, you say-what pain! Accept your pain. I want you to feel that pain now. It will go away.* It is so little. Heartache I know, heartache to love each of My children so much and be ignored or put at arm's length! Do you know how it is to love another and not have their love? I long for your love with Me, but you are busy. You do not have the time to be with Me while I await thee. I am an ardent lover Who waits for each of My children to come and experience this great love. You stay away from Me Who is always waiting and you search this barren desert for that which I have to give you. I watch you in this search and want you to come home to My heart. I am waiting for you, little one. Don't keep yourself from Me. Remember how I suffered for love of you. When you feel a pain, remember the pain I suffered for love of you. That is how I love you this very day. Take your cross and walk with Me. Come and be with Me. I have that which your hungry soul craves.

I am your loving Jesus. I love you, child. You do not know. I wait to be closer to you. You must see Me as this personal and this alive in your life! Oh, sweet one, I love you to My death and I love you this way today. I lament My children lost in darkness. I want to be united to you. Come and make Me the center of your life. I wait for you!

R. *My toothache is gone!
end of December 18, 1993 message
August 18, 2002 message continues
Messenger: I asked Jesus October 5, 1992, if He would
write a book to the world, would He
use my hand.
On October 5, 1992, I said to Jesus,
"If You were to write a book, what
would You say to the world?
Use my hand and write Your
book for the world."
- Now all these books later.
August 18, 2002 message continues
Messenger:
- and all the videos later

- and after over 500 apparitions of Mary to me

- and Mary appearing on the building in Clearwater, Florida - December 17, 1996

- and we having leased the building a long time (for Shepherds of Christ work only)

- and then buying the building with a big loan one week after Fr. Carter's death

- and all these writings—one every day
| | | |
| --- | --- | --- |
| July 1998 | August 1998 | September 1998 |
| October 1998 | November 1998 | December 1998 |
| | | |
| --- | --- | --- |
| January 1999 | February 1999 | March 1999 |
| April 1999 | May 1999 | June 1999 |
| July 1999 | August 1999 | September 1999 |
| October 1999 | November 1999 | December 1999 |
| | | |
| --- | --- | --- |
| January 2000 | February 2000 | March 2000 |
| | | |
| --- | --- | --- |
| April 2000 | May 2000 | June 2000 |
| | | |
| --- | --- | --- |
| July 2000 | August 2000 | September 2000 |
| | | |
| --- | --- | --- |
| October 2000 | November 2000 | December 2000 |
| | | |
| --- | --- | --- |
| January 2001 | February 2001 | March 2001 |
| | | |
| --- | --- | --- |
| April 2001 | May 2001 | June 2001 |
| | | |
| --- | --- | --- |
| July 2001 | August 2001 | September 2001 |
| | | |
| --- | --- | --- |
| October 2001 | November 2001 | December 2001 |
| | | |
| --- | --- | --- |
| January 2002 | February 2002 | March 2002 |
| | | |
| --- | --- | --- |
| April 2002 | May 2002 | June 2002 |
August 18, 2002 message continues
Messenger: Will you help us.
Here are more writings from bishops,
Archbishops, Cardinals—all
over the world—
---
April 29, 2002

Dear Mr. Weickert;

Thank you for sending the books and materials by Father Edward Carter. He was a great apostle of priestly spirituality and his voice is sorely needed today.

Sincerely yours,

Cardinal _______
---

23 July 2002

Dear Mr. John Weickert

Many thanks for your letter of April 7th and July 16th enclosing Shepherds of Christ Spirituality Newsletters and Prayer Manuals.

Happy to read about your special movement, dedicated to the renewal of spiritual life, with emphasis on prayer for priests, the Church and the world.

I assure you all of my prayers for fruitful success in spreading your message and request you to pray for me, and our Archdiocese.

With my cordial blessings

Devotedly yours in Christ

+Archbishop ________
---
India

24 July 2002

Dear John Weickert,

Greetings and prayerful wishes from Bishop _____.

Thanks for your letter dated July 16, 2002; the information regarding Shepherds of Christ Ministries Movement and the book The Priestly Newsletter Book II, which I received in good order.

I do appreciate your service you are rendering to the priests, the Church and the world and it is inspiring to note that you are continuously praying for the priests and the Church by establishing prayer chapters. Of course, prayer is the primary and vital necessity for the religious life and all things can be wrought by prayer. May God bless you abundantly in all your endeavors.

127 diocesan priests and 50 religious priests are working in the diocese of _________ and if you could send me more copies of the book—the Priestly Newsletter Book II, I would give them to my priests, which will be of great help in their spiritual life.

Thanking you,

Yours Sincerely in Christ,

+Bishop of ________
---
Republique de Cote d' Ivoire

26 July 2002

Object: Your letter of July 16th.

Dear friend in Christ,

I have just received the "Shepherds of Christ Associates Prayer Manual" and I heartedly thank you for it. Of course, I agree with you to "help begin prayer chapters praying for the priests, the Church and the world".

May I recommend to you, in a special way, the six deacons I shall have to ordain to the priesthood next January 2003 and also eleven seminarians who, normally, will be ordained as priests by the beginning of the year 2004.

Once again, thank you for thinking of me, my priests, my diocese and the whole world. May the Lord Jesus Christ bless you. May the heart of the Virgin Mary protect you always.

Yours very prayerfully,

+ Bishop of _____
---
India

23 July 2002

Dear John,

Thank you for your letter. I am pleased to know the wonderful work you are continuing to do what Fr. Edward J. Carter, S.J. was doing during his life time that is Editing Newsletters: Shepherds of Christ's Ministries. Since a couple of years I was getting the packet which I was distributing to my priests. My priests were using it profitably for their own spiritual life. Lately I have received a few copies- Shepherds of Christ spirituality 2 Newsletters which I am sharing with my priests. Thank you very much for the photograph the image of Our Lord. It is indeed wonderful that the image of the Lord appears in the background of the building. I am sure the Lord is telling something to the Church specially to the Clergy all over the world. These days we have been challenged by the Media with the publicity against priests in the United States. I wonder how much truth is in such negative publicity except to denigrate the Clergy. The apostolate of Fr. Carter which you are continuing through the Newsletters contacting 75 thousand priests in 90 Countries in several languages is indeed God's work. I only encourage you and pray for your work.

Please continue to send literature on Shepherds of Christ or any material which helps my priests spiritually. I thank you and remain grateful.

Yours sincerely,

+Bishop of ____
---
Note from a priest in United States

Always enjoy your articles. The recent
Book is a gem. All priests should have
a copy of it.
May the Lord continue to bless all
that you.
May Our Lady smile on you always.
Fraternally in Christ,
Fr. ______,
Ave Maria
---
May 2002

Dear Ones in Christ,

Peace and Health to you all.

I am happy to assure you all that I have received the precious books that you have so generously sent to us. I have distributed to the priests of ____ diocese free of charge. I only ask them to thank you all and offer a Mass on every First Friday of the month. The only thing we can return you.

I pray to the good Lord to love, bless and reward you all for your awful charity, generosity and fraternal solidarity.

I am a retired bishop now. But I still go around to see my old and new catholics. From 18 to 28 of April, I went to ____ and ____ borders to baptize and confirm. The four priests baptized about 600 persons while I confirmed about 450 persons. There are many more ___ pagan villages want to become catholics. Please pray for them and for me too. Thank you.

With prayerful wishes and God bless you and your wonderful works for the greater glory of God and salvation of souls.

Yours in our Lord and Lady,
---

June 12, 2002

Thanks very much for sending me a copy of Shepherds
of Christ (Spirituality Newsletter) Vol. 2.
I have already read it from cover to cover and
I found it most inspiring.

Please send me Shepherds of Christ, Vol. 1.
A donation is sent herewith.

God bless you and your work.

Yours in Jesus and Mary

Father _______
---
Dear Father,

Greetings from the Archdiocese of _______.

We have received the books, "Shepherds of Christ",
Spirituality 2 Newsletter by Fr. Edward Carter S.J. We wish to humbly reveal to you our deepest gratitude and thanks for the books. We have sent the books to our Diocesan Priests, twenty-
six of them and they were pleased with the book.
We have discussed in Our Diocesan Priests Meeting for the need
of reading as for our Young Priests who are looking after Nineteen of rural Parishes in our Archdiocese. The first book to be given to them after our meeting is the Shepherds of Christ and they were pleased and appreciated receiving them. So you see how the Shepherds of Christ has helped our young priests in reading.
Please do not forget us in your next version.

Thank you and God Bless. A mass will be celebrated for your intentions.

Yours Sincerely,
_____________
---
April 25, 2002
Dear Fr. John,
Thank you very much for your kind letters dated April 7 and 16 last together with the many enclosures concerning initiatives started by Fr. Edward J. Carter.

I am pleased to inform you that the devotion to the Sacred Heart of Jesus and Immaculate Heart of Mary is widespread in this Archdiocese, as also the Divine Mercy devotion. In fact, our Archdiocese has been solemnly consecrated to the Immaculate Heart of Mary on August 15, 1997, Feast of Our Lady's Assumption and the 50th Anniversary of _____'s independence. This consecration is renewed every year in all our parishes. I do it officially in our Cathedral. Besides, all families are encouraged to consecrate themselves to the Sacred Heart of Jesus, and this year we are going to make a special drive so that the image of the Sacred Heart can be enthroned in those homes where it is still not done in our Archdiocese.

It might interest you to know that in the 80 of the 113 parishes in this Archdiocese, we have daily adoration to the Blessed Sacrament from early morning till late in the evening. The practice of having all night adoration in parishes once a month is growing steadily.

I was deeply impressed by the photographs you sent me of the image of Our Blessed Mother in the Church of Our Lady of Clearwater. It is touching to note the tender love and concern of our Heavenly Queen.

I recommend the Archdiocese of _____ and my pastoral ministry to your special prayers. Thank you very much in anticipation. Rest assured of a regular memento at Holy Mass.
With cordial regards and sincere good wishes, I remain
Yours fraternally in Corde Mariae + _________

---
05 May 2002
Dear Rev. Fr. Carter and the Team of "Shepherds of Christ Ministries",
On my return to ______, I find the parcel of FIVE books which you have so kindly sent me. Thank you very much for your generosity and for the thoughtfulness you have so consistently shown.

This month, three of the Diocesan Priests whom I ordained in their home Parish are celebrating their Silver Sacerdotal Jubilees. When I opened your postal-bag and found your books, I said to myself: this is just the best present I can make to each of the three Jubilarians. The fourth copy has gone to the Library of Bishop's House, and the fifth copy I am keeping for my own personal use in the Retreats I am constantly called upon to give Priests and Seminarians.

Let me take this opportunity to thank you and all your benefactors for all the copies of the review "Shepherds of Christ" which you have been regularly mailing to me and which I send to each of the four Deaneries in this Mission Diocese. Hopefully, much good will come to those who read it.

With sincere thanks once again and every good wish and blessing for the approaching Pentecostal Season, and will all good wishes.
Fraternally in Our Lord,
+________
---
August 18, 2002 message continues
Messenger: Here is the message I received from
Jesus September 6, 2001 when I prayed
so hard to Him because we had
no money for rosary materials, the
summer 2001 for the school year
beginning September 2001, no
money for the Virgin Mary building
payment and I cried to God.
I received this message from Jesus.
Excerpt from September 6, 2001
Jesus speaks: You must pray for your donors.

I appeared and my mother appeared

for the whole world.

The apparition is not appreciated.

The fact you cannot even make

the rent payment for the

building is proof.

So much money in the world and the

state of Florida.

Look at your news on television.

Look at what the news is on the
television.

MARY HAS APPEARED ON THE
BUILDING FOR 5 YEARS AND
YOU DO NOT EVEN TAKE
NOTICE.

It is not the responsibility of 100
people to support such a vision.

It is a gift from God.

This shows you the focus of men
and your news.

Your eyes are blind.

I ask today September 6, 2001 to

see Our images and to help

do what We have asked you to do.

These messages are important.

You have ignored Me.

THE PRAYER CARDS, Prayer for Union
with Jesus, Prayer Before the Holy
Sacrifice of the Mass, Say daily card,
morning offering, Shepherds of Christ
Prayer manuals, Holy Spirit Novena book,
rosary meditations are gifts from God.

Messenger: Jesus also said "All materials

used for the school rosary program

printed by B&M have helped the

school children."

Jesus speaks: The Priestly Newsletter is a gift from God.

Because of these prayers your world

is a better place.

If B&M closes and the printing stops -

your world will be affected.

Again I repeat, these revelations and

materials are for the world.

Mary appears the Lady clothed in gold

for the world.

Very, very few are helping to do what I ask.

My movement is to help the priests, the
Church and the world, it is a gift.

Because of My movement, the world is a
better place.

You will feel the effects if the printing stops.

I am the Sacred Heart of Jesus, I speak here.

end of excerpt from September 6, 2001
August 18, 2002 message continues
Messenger: The building was dark for the first
time since the gold images had been
appearing on the 5ths when we
prayed.
Here are some pictures of how the images
appeared September 5, 2001.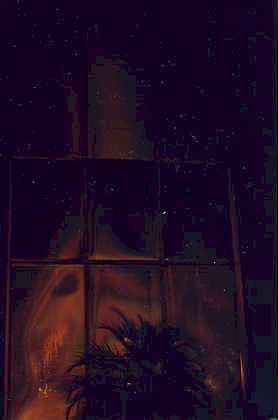 September 5, 2001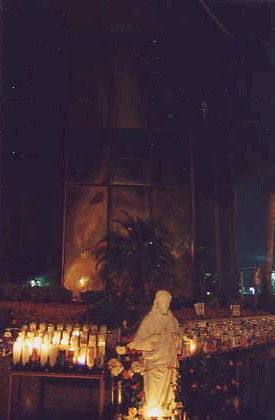 September 5, 2001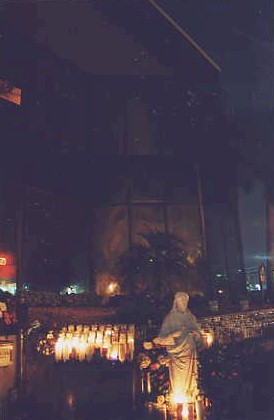 September 5, 2001
August 18, 2002 message continues
Messenger: Then September 11, 2001 we really did
suffer.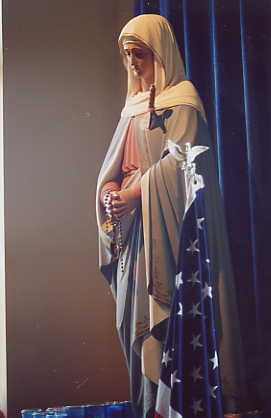 August 18, 2002
Mary speaks: Oh America, I lament, I cry to you
and you will not listen to me
and to my Son Jesus and even
to God the Father.
Many of your ways have offended God.
There are many who can help and
are not helping answer the
messages of my Son Jesus.
Please reach the priests with
the Priestly Newsletter Book.
Please circulate the Blue Book
Messages and Rosary Meditations.
Please my children, pray the
rosary and consecrate your hearts.
This message August 16, 2002 is a
message from your Heavenly
Father.
I cannot hold back the hand of
my Son from striking the earth.
Oh my people, my little children,
you must pray and listen to Jesus.
You need to pray as He has instructed
for your priests, the Church
and the world.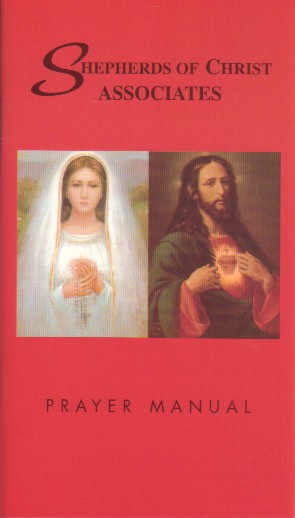 August 18, 2002 message continues
Mary speaks: translate these prayers in other languages
Please my children, circulate the already
translated prayers with the Imprimatur
in English, Spanish, French and
Portuguese.
Oh my children, circulate the
message of August 16, 2002.
Have the translated Shepherds of Christ
Prayers with the Imprimatur available
on sheets at my image building
in Clearwater, Florida.
This building is the building of
the Two Hearts, the Sacred
Heart of Jesus and the Immaculate
Heart of Mary.
Translate the Red Prayer Manual.
Circulate the Rosary Aves with
Imprimatur to all those who
come and will use them.
I beg you to make my image
rosaries available.
Pray your morning offering.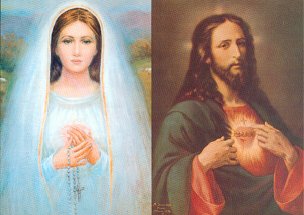 A Prayer before the
Holy Sacrifice of the Mass
Let me be a holy sacrifice and unite with God in the sacrament of His greatest love.

I want to be one in Him in this act of love, where He gives Himself to me and I give myself as a sacrifice to Him. Let me be a holy sacrifice as I become one with Him in this my act of greatest love to Him.

Let me unite with Him more, that I may more deeply love Him. May I help make reparation to His adorable Heart and the heart of His Mother, Mary. With greatest love, I offer myself to You and pray that You will accept my sacrifice of greatest love. I give myself to You and unite in Your gift of Yourself to me. Come and possess my soul.

Cleanse me, strengthen me, heal me. Dear Holy Spirit act in the heart of Mary to make me more and more like Jesus.

Father, I offer this my sacrifice, myself united to Jesus in the Holy Spirit to You. Help me to love God more deeply in this act of my greatest love.

Give me the grace to grow in my knowledge, love and service of You and for this to be my greatest participation in the Mass. Give me the greatest graces to love You so deeply in this Mass, You who are so worthy of my love.

-God's Blue Book, December 27, 1995
August 18, 2002 message continues
Mary speaks: And pray at the Mass
with all your hearts for
the souls of this earth to
know and love Jesus my Son.
I appear here in Clearwater,
Florida to lead the souls
to the love of my Son, Jesus,
especially in the Eucharist.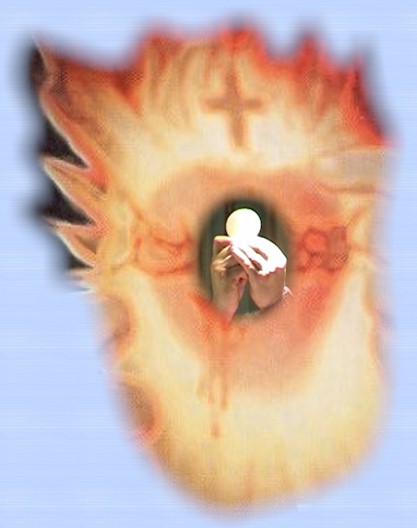 August 18, 2002 message continues
Mary speaks: Please my children, hear me and
help me
| | |
| --- | --- |
| July 5, 2000 | July 5, 2000 |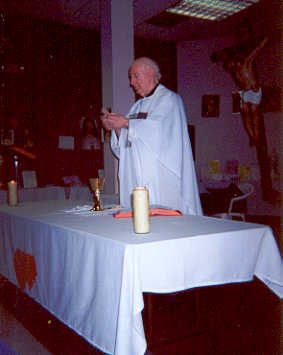 July 5, 2000
| | |
| --- | --- |
| January 5, 2001 | January 5, 2001 |
August 18, 2002 message continues
Messenger: This picture first appeared in rainbow-
gold January 5, 2001 during the 6:20
prayer service.
Please help us.
This message is for the world.
I was awaken with knocking and
got this message
Angels Will Read the Message

December 20, 1993 - 2:40 a.m.
Jesus speaks: Who will read the message? Angels will read the message. I will be by their side. I want the messages out. I want them out, I tell you. I want My people to hear all I am telling you. I want, not a few, but all to hear these words. They are private revelations given by Me to My people. The souls are, oh, so hungry for this one. They need to get these messages.
I am one crying in the desert. Make ready the way of the Lord. Prepare ye a path for the Master. He comes as a child in a stable. His people are asleep. Where are they and what are they doing with their busy lives? The angels will read the messages. They will rock the heavens and all will know My love and My might. From the housetops, shout this. Proclaim, "The day of the Lord is approaching. Make ready a path for Him." Will you comply with this demand to deliver a message to My people?
Time, child, is so short. You must ready all with My words of love. They are half asleep and dazed. They walk this earth with blinders on their eyes. My day will rock them off their rockers and they will know it is I with Whom they deal. No mistake will be made as to what is happening. All will see My power and My might. From the heavens shall come a sign and all will know from whence it comes. And the days that follow will be days to prepare men's hearts for My coming. I will not come unannounced. I will come with My power and My might and you will know what you will behold. Men will turn their hearts to Me with these messages. Get them out, I tell you, for their need is very great. I am patient and yet I am demanding. Ready yourself for this day of the Lord. I come as a baby into your midst, the angels sing, the choirs of heaven rejoice and you will know soon that I am very close to you all. Indeed you will know!
What awaits those in their feeble hearts! They run after such useless things when I, God, am talking in these letters. They think their world is their end. What an awakening they will have-a wide awakening!
I knock to make ready for My coming. You hear Me knock on your door in the night. Make ready this path so My people will read these letters of love. I am mighty and worthy of such praise. My people must realize My love in My intense might. What sign do you need? Do you think these messages were for your ears alone? Such power and wisdom in Rita's purse? This is not the idea. They are for all! My ease goes with you in all your undertakings to get these messages out.
Slow, too slow, I tell you. Shout My message from the housetops, that I am Lord and I am coming in your midst as a baby, but, with such might! My time is at hand. You tarry too long, My little ones. Time you do not have. This world is crazy! People are so busy at the malls. Oh, what foolish ones. I come as a baby into your midst. This is My birthday and whom do you worship? You worship idols! It is all such a sick world. Make ready My path, My little ones. Time is so short and you must not tarry any longer for into your hands I place My words for the world. They are mighty, little ones. Read them! What do you do with these words? Do you want proof? Look at Me hanging on the cross. It is out of this love of you I died a brutal death! Do you think I would not go to this extent to save the souls of My loved ones? Why would I come to this earth, give My life for all My beautiful creatures, and then, at this stage of the game, not send some mighty medicine to cure My sick little ones? You possess the mighty medicine. I mixed it with such love and I hand-deliver each message to shake My people to My love. The heavens will rock and the Son of Man will appear on a cloud and the glory of the Lord will be shown on high!
Get busy, you little people. The angels declare My words are given here. This is My gift to My people-distinct, clear letters proclaiming My love. Are you listening? Do you think I would not try everything to save My beloved ones?
Oh, I will go to any extent to save these little ones, so ornery and so stupid in their ways, so sinful in this evil world, but so precious to Me. I will come in My glory and I want every last soul.
I am God. Why would I not speak to you? I wait for you. I wait, I wait, but you are all so blind and dense. What you do is so silly. Your ways here have become sick and your hearts have become hard. But shout it from the housetops! I loved you to My death! I love you all in your sickness. I want you united under the mantle of My mother, praying and honoring God.
America, turn yourselves around before it is too late. Come and heed My harkening. Come, come, My children. Time is so short and a lot of mending must be done in your hearts. You have hardened them and now they must come back to life. Only I can give you this life in your hearts.
Heed My words here. I am gentle and kind in heart. My heart is a heart of love. I have hand-delivered these messages to My people and you are My delivery boys. Get them going, little ones. You tarry too much.
My gift to My people is My love this Christmas. I am showering all at this Center with grace this season. The devotion there pleases Me, but more must flock and they will be changed from hardened hearts to hearts for God. I am God, little ones. I came and I died a brutal death. I am calling to you all to deliver this now. Make this your top priority so they will hear My message of love and know the love I have for them. Do not tarry. Do this today, little ones.
end of December 20, 1993
---
---
---
Copyright © 2002 Shepherds of Christ.
Rights for non-commercial reproduction granted:
May be copied in its entirety, but neither re-typed nor edited.
Translations are welcome but they must be reviewed for moral and
theological accuracy by a source approved by Shepherds of Christ Ministries
before any distribution takes place. Please contact us for more information.
All scripture quotes are from the New Jerusalem Bible, July 1990, published by Doubleday.
Revised: August 18, 2002
URL: http://www.sofc.org
Contact Information for Shepherds of Christ
Email: info@SofC.org
---
Shepherds of Christ Ministries
PO Box 193
Morrow, Ohio 45152-0193

Telephone: (toll free) 1-888-211-3041 or (513) 932-4451
FAX: (513) 932-6791